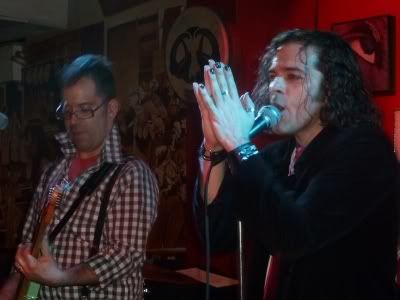 Doc Brown and Spiccoli Rocking Out at our return performannnn ,.......
Hold On a Second There, THATS NOT DOC BROWN!!!
Awhile ago I had mentioned the band considering understudies performing at some shows due to our busying schedules and just two weeks ago we began rehearsals with Marty McFly and in a stunning feat of musicality and studiousness Marty learned 30 songs and ran through them with us at an average of once per tune spanning about 4 hours of solid rehearsal. I had a Great Gig and Marty gets the V.I.P of the night in my book for musicianship, professionalism and getting along with this lot.
Do They Not Look Alike ?
(L to R) Marty McFly, Doc Brown.
Callbox Lounge 2/2/11.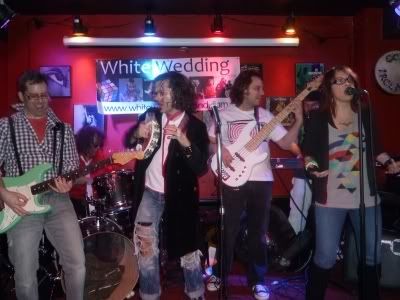 Considering this was the bands first gig with Marty McFly we didnt miss a beat and gave a typical High Energy White Wedding performance. O'Flanagans provided a nice lively crowd but we were very pleased to entertain bowling team "The Lois Lanes" who saw us at the Brooklyn Bowl last month and followed us into Manhattan, They asked to take a photo with us and we obliged of course.