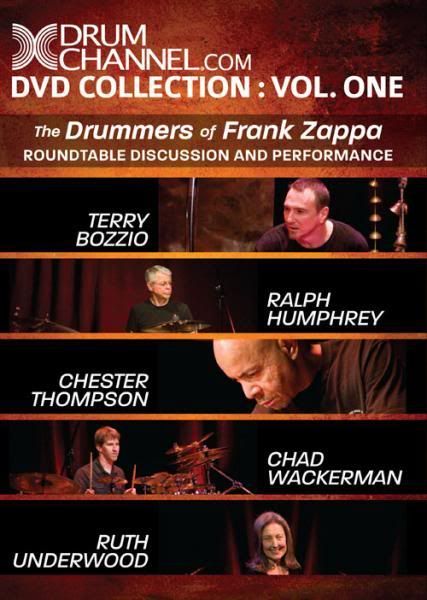 Submitted to Amazon.com which explains the "consumer/advertisement" slant of this entry.
A Fascinating and Insightful discussion between five of Frank Zappa's most well known drummers. Terry Bozzio, Chester Thompson, Chad Wackerman, Ralph Humphrey and the charming Ruth Underwood reminisce on the experience they each had in various ensemble's serving under Maestro Zappa's baton. Conversations of the Black Page, Frank's conducting style, Mahavishnu Orchestra/Billy Cobham and details of the individual auditions each of these extremely gifted players underwent getting into Frank's band are enthusiastically and humbly told. If you are a Drummer, Zappa fan or just someone with an interest in music you will certainly enjoy this film. Incidentally the running time for the discussion is 106 minutes as opposed to the 60 minutes in the DVD specifications listed above.
For The Drummers and persons who enjoy music made with four drumkits (unfortunately Ruth Underwood was not part of the proceedings) The drumming portion runs 42 minutes in length and is nothing short of revelatory noodling. Fantastic to see these four improvise (assuming this was improvised) a piece of drumming music while giving it texture and dynamics. Gazing at the DW and Yamaha drumkits is no eyesore neither. No best drummer here they work so impressively as a mini-zappa gamelan quintet.
There is no official Frank Zappa music or archival clips in the film and it really is just a "discussion" about the whole challenging and rewarding experience. One wonders whether or not the producer's at Drum Channel approached the Zappa Family Trust at all for permission to use clips & music which seem appropriate at certain times during conversation but it doesnt sorely need it and most watching this specialty DVD will probably be very familiar with the music in question.