The band has become somewhat of an unshakeable force after all of our experience and travails and while we have never been ignored the crowd at the Heritage bar did not really approach the dance floor until our second set and "Mickey" was the number that got people out there. Dancing was intermittent throughout the evening but patrons told us how impressed they were and more importantly the management really enjoyed us. Songs premiered tonight were 9 To 5, The Gambler, Rock Me Amadeus and Funkytown.
The bartending and wait staff treated us Very kindly and Spicolli and myself had to tear ourselves away from the Jamieson and creamily DELICIOUS Guinness on tap at the end of the night.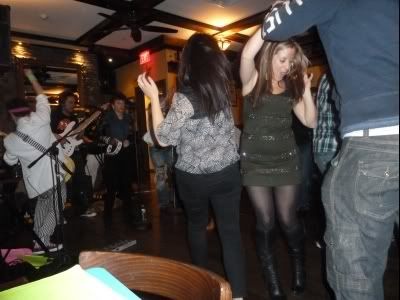 This is not the first time that our Music has persuaded young men to take off their clothes.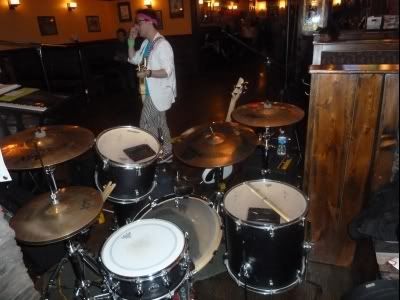 Pre-Gig I purchased a few appetizers (Chicken Fajita Tortilla and Black Bean & Cheese Tortilla) from the unique Japanese/Tex-Mex place next door only to find that it tasted identical to the more popular Chinese/Tex-Mex establishments around town.
Pre-Japanese/Tex-Mex While awaiting the 4 train on the Atlantic avenue platform an aromatically drunken fellow started spouting to me (in a friendly enough fashion) about Steven Tyler, J-Lo and Randy Jackson as if I looked like I knew about American Idol or even Music in general, I told myself "oh the hair and I'm carrying a snare drum" which was promptly followed by another gentleman interrupting and proclaiming "I'm a musician". WELL, this is when the red flag goes up and the "suspicious new yorker" comes out. He begins to ask me what kind of drumsticks I use, I answer honestly and say Pro-Mark. he ruminates mysteriously about drumstick brands I have never heard of then he hits upon something. "Do you use Ambian Drumsticks? How about Xanax drumsticks? fifty cents apiece" I tell him thats a really good price but no thank you and fortunately my train pulled in at that moment which I had no problems/obstructions boarding. As a parting question he asks me "Who's the best drummer you ever seen?" to which I reply "Keith Moon" even though I have never seen Keith Moon in person.
Do I look like a pill popper, I mean seriously,.....
O.K. DONT Answer That.