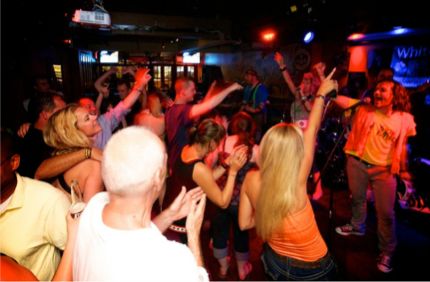 Of all the shows we have played at O' Flanagans I seriously thought "this is going to be the rehearsal one". There was a couple having dinner and one of Diana's friends in the dining area where the stage is located and a decent amount of patrons at the bar in the other room but not the usual amount of people possibly due to the fact that earlier in the day it was nearly 100 degrees outside in this second mini heatwave New York was having, Turned out I need not worry and you can also see in the photos that we drew some people into the bar and the bar into the dining area to check out our performance.
Premiered tonight was the Full version (non-medleyed) of Twisted Sister's anthem "We're Not Gonna Take It"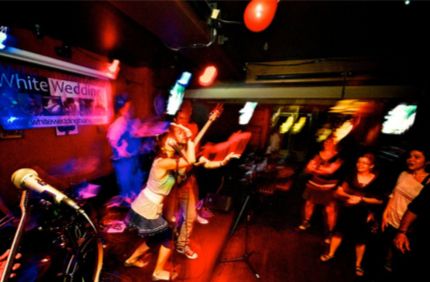 99 Red Balloons on the wall
99 Red Balloons
If one of those Balloons should happen to fall
98 Red Balloons on the wall.
Jamie got a real Rock Star pic of Rob here entertaining the crowd.
It was a late night for all of us (O' Flanagan shows end at 2:30 a.m.) but the next morning around 10 my iPhone started going off with texts concerning whereabouts of the Wig Bag, I took this photo and proceeded to send an "We have the Wigbag for Ransom" text but due to Apples Fancy Pants spell check it went through twice as "We have the Wigbag for Random" thus killing my joke and ruining the ruse.
The menu states clearly "ALL burgers served with French Fries" but the Mexican Burger comes with Nacho Chips and Salsa (I wanted all of this plus Fries) instead, Luckily Jamie's Chicken Fingers came with Fries.
Last time I had a Burger here it was Delicious, this time the bread was a tad stale. The Mexican Burger comes topped with Cheddar Cheese, Salsa, Scallions and fresh Jalapeño that have a real kick.
O' Flanagans Website ad.
FLICKR
This Is Show # 177