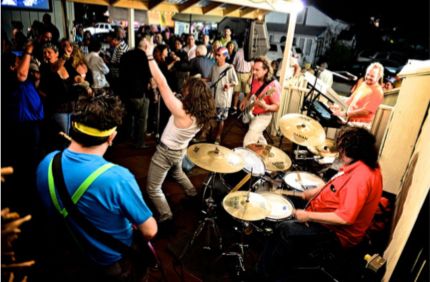 One of the most appreciative audiences we have played for this summer made this a memorable show for the band and the staff at JC Cove loved us up as well. Rob made quite a few tactical maneuvers in the Zipcar to get us to Freeport promptly and safely but there was lots of traffic (in Brooklyn !!!) to contend with. Upon arrival we set up quickly and started the show a little early as per managements request and tripled the crowd size by shows end, the seventh member of the band Ed (see below) provided shaker and tambourine throughout the evening and while not every song calls for additional percussion Ed was having a good time and is a very nice fellow.
80s Factoid - Prince provided Stevie Nicks with Synthesizer on "Stand Back" (1983).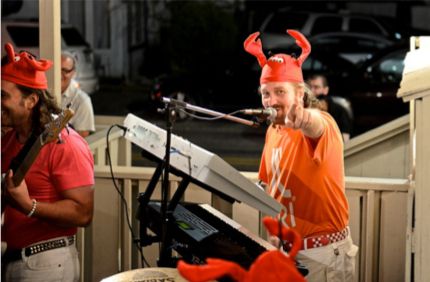 "There goes a Snapperhead, Nope Really, Look Over There !!!"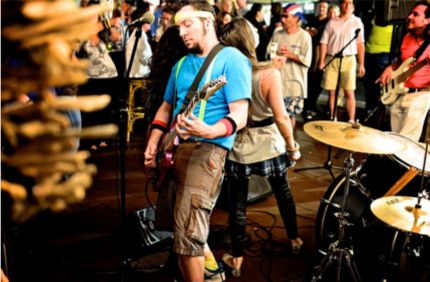 Eric and Diana rocking the crowd with an enigmatic nautical structure in the left foreground.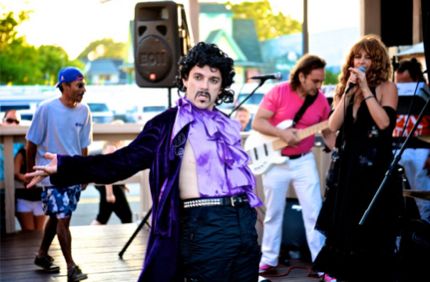 (L to R) - Ed (tambourine and shaker), His Purpleness (being him), Dave (Bass Guitar, cell phone), Diana (being Stevie Nicks), J.C. (Keys, backing vox)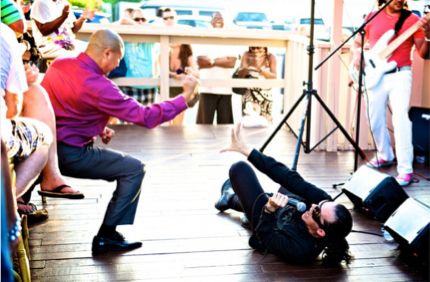 Early in our set and Bono had the crowd on our side with Truth, Justice and the can of Guinness way.
Perhaps in reverence and respect to their recently departed and eaten brethren just a few feet away in the JC Cove restaurant not one Lobster hat flew off even in these windy conditions.
Set One - Edge of Seventeen/Stand Back
Last song, Third Set prior to encore was SUGAR sweet.
Dave finally got to read his texts once we were through as well.
Dave endorses the Samsung Fascinate.
FLICKR
This Is Show # 174