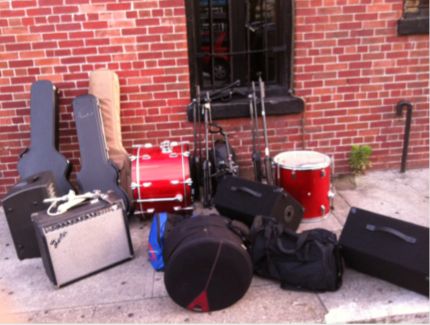 The Yeggs got to play on the same bill as Black Death and Baby Daddy Project "Let It Be That" (The Let It Be album in its entirety) at Bay Ridge's Three Jolly Pigeons and I got to see some old friends of mine as well, Sweethook was in attendance too. We played a tight set loosely and Jazelyn helped us out with backing vocals on "Another Brooklyn". Premiered tonight was the Stevie Ray Vaughan classic "Texas Flood" to which afterwards John the Bass Player yelled to Thomas "Your saving that for the Yeggs !!!" referring to the tasty 16 bar Blues guitar solo Thomas took.
One of the things our rehearsal space is known for is the authentic railroad tie which we use to keep the bass drum sedentary and that is also quite heavy. Thomas forgot to bring the dumbbells along (the metal "weight" kind) so we transported the "tie" on the roof of Thomas' car, Fortunately and Luckily no one got hurt and I am referring to the other cars and innocent bystanders.
Bloggers Banquet.
Note the Good Yeggs flyer above urinal 2.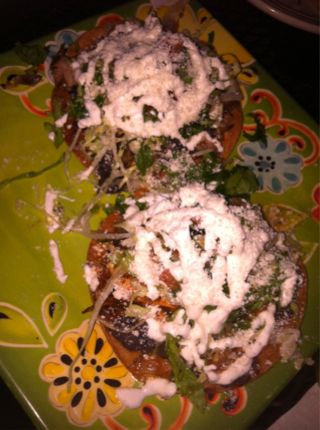 Previous to the gig Joe, Marco and myself stopped off a few doors down at Panchos for some authentic mexican food. I chose from the extensive menu and after asking Joe what a "Carnita" was (spanish for Pork) decided on Tostadas (2 for $6.00) one Carnitas (Pork), one Tinga (Spicy chicken) and a Lime Jarritos Soda. I Absolutely Loved the first Tostada (we think it was the Tinga but not sure) which had just the right hint of Cilantro and was piled high with ingredients atop a most durable and crunchy Tostada but there was something I didn't care about in the meat on the second one, it was kind of sticky and that reminds me a little of Pork Chops so I am assuming that was the Carnita. Either way I could eat here every day of the week.