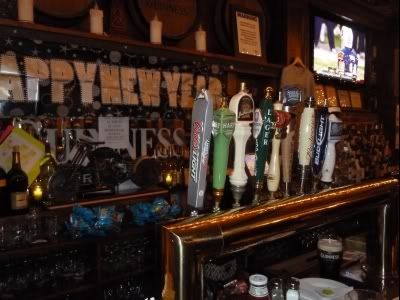 I finally learned what an Ulster Fry is, oftentimes on the daily menu specials at the Heritage (but not tonight) this item is listed. I previously surmised that it was a "fried food platter" and that Ulster is "a place" and I was right on both counts (Ulster is geographically located at the top of Ireland and the contents of the plate was rattled off to me so expertly and quickly that I can only remember that there were Beans). This information was provided by members of the wait staff who had ended their shift and were counting out receipts at the very table next to which I set up my Drum Kit and as it was getting closer to showtime I went ahead and set up around them, they were all very sweet but realized once the band "came in" that this was a bit loud and somewhat intrusive. Oh Thats Right SHOWTIME, this entry is about the show.
It being New Years eve the Heritage was its usual lively self with a few extra well wishers 'Round Midnight, this place has fans and a core audience that need no explanation once you have experienced the Heritage spirit.
Tonight there were 2 Michael Jackson's at one point but dont worry I know who the real one is and I aint telling, there was also some breakdancing during "Sister Christian" which was instigated by Rob, Well... at least that sounds right to me, I was in prescription shades in a dimly lit room but I mean who else would do that!!!. This is also the show that I experienced a common drummer nightmare, that of the band being onstage ready to start without you, I was at the bar getting a third set Guinness discussing the band Rush with a patron when I heard Rob introducing the opening number "Anyway You Want It" by Journey.
Thanks Steve for delivering the Stout to me.
The Two Michael's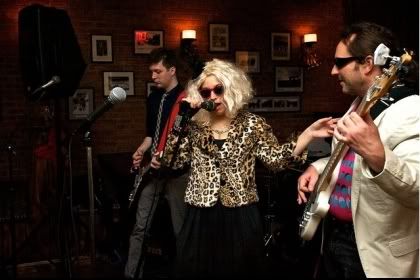 Is this a Material Girl ?
Welcome to the Jungle.
Note: White Wedding t-shirt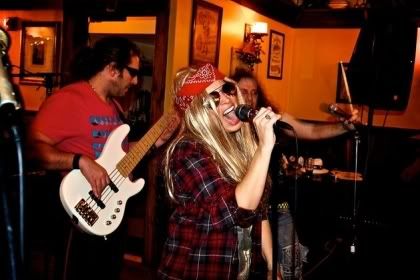 Axlette Rose.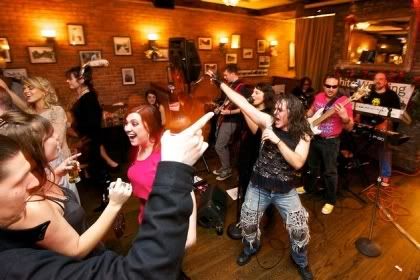 Rockin' The Heritage.
The band played very well and it was nice to have Nancy back in the fold for the evening. Nancy had a blast as well, I was there.
We got there early (Sean drove me) and actually got a seat at the bar along with Nancy & Paul. I purchased a Heritage Bar polo shirt since they treat us so well there (and its a nice shirt) and finally tried their Sliders which were very tasty.
Dave and myself vamped behind MC Rob counting down the new year for the crowd after which I meant to shut off my digital camera but forgot so we get 18 minutes of audio from tonights show instead of five, ALL for the price of a dime.
This Is Show # 148
FLICKR