Once Again,
Quite the Frenetic and Energetic crowd out on the dance floor from our opening "A Little Respect" to the closer "Fight For Your Right", We have learned to expect a certain degree of AWESOMENESS from the O' Flanagans Saturday night patrons but this being Pre-Christmas weekend "Weekend" there were a few parties being held on the premises adding to the fun and if any night was going to have the crowd yelling "WHITE FU**ING WEDDING !!!" then tonight was it !
Those Rowdy Drunkard's certainly let us know,.... Beer, Sports, Gyrations, Rock Music and use of the "F" word where applicable and
WHITE FUC**ING WEDDING !!!!!
I was entertained by the audience's reaction and playfulness in front of a capable band but also by the bands reaction towards a capable audience. Thanks to my blonde bartender friend for all the Bass Ale Pints.
This audience knew what they were in for as soon as the DEVO hats came out.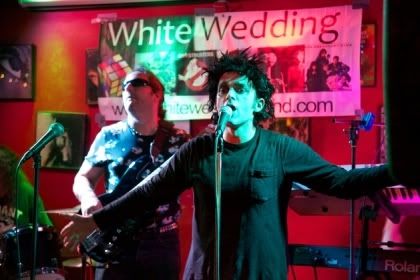 Robert Smith contemplates.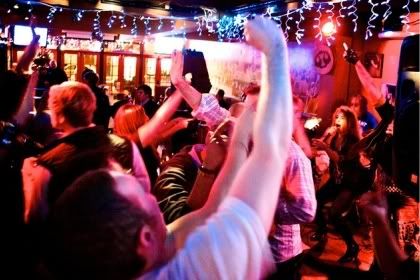 What might they be chanting and was the "F" word involved ?
She's Got Legs.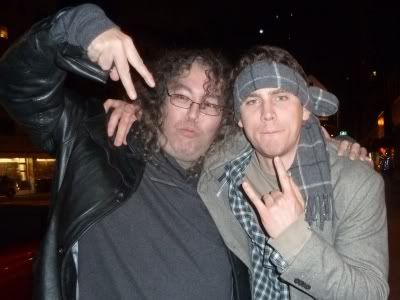 Ran into this fan as he was trying to nick a pair of Rob's 80s shades during load out and then again was informed minutes later by Paul that "theres some guy outside wearing Rob's shades" after which I went to retrieve them, they were finally returned to Rob and we posed for a pic.
Since MTA.org is So Reliable with up to date transit info (All Sarcasm Intended) as it has fed me in the past I took the quick walk over to the 79th street "D" train to find there was No Manhattan bound trains ALL weekend. On the way back I decided to check see if they had the "Lard Bread" at Palermitana Bakery (7821 17th avenue) of which a most reliable source has told me therein the Good Bread resides.
This Is The Real Deal "Lard Bread" and not the Prosciutto Bread (which is loved on its own merits) that I have been eating over the years, you can taste the Bacon Drippings in every bite of this Delicious Loaf ($3.50).
This Is Show # 147
FLICKR