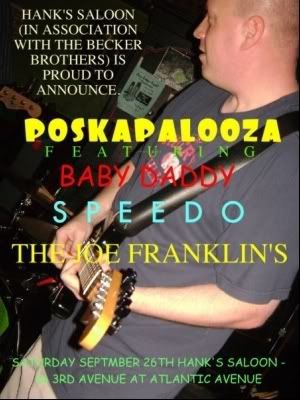 John the Bass Player posed the question "Can Franklin get through three sets with three different bands?" and the answer is a resounding YES. We had a great room full of love and friends, always a blast when you know just about everyone in the place.
The Joe Franklins opened the evening with a loose set of original material and covers of "Thats Alright Mama", "Crazy Arms" and "Sitting on top of the world". Scott Cornwell provided blistering slide guitar to our tunes and Steve Wortman donated some tasteful harp work for a few numbers. Check out their band with Joe at myspace.com/acousticonset.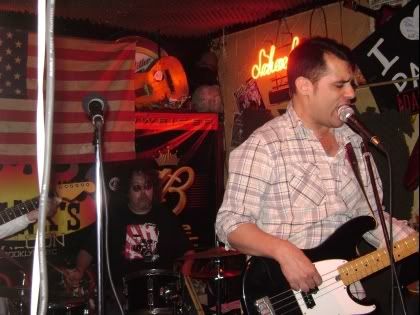 Joe preaching to the converted.
Baby Daddy delivered like they always do with a tight set of original material and twin lead guitar attack only to surprise me with an encore of "Whipping Post" (I peeked at their setlist prior to their showcase) and it was a pleasure reuniting with my Becker Brother Joe after eighteen years apart. He was a great drummer then, Hes an amazing drummer now.
Speedo closed the show with a tight and funky set of Blues tunes, I was so transfixed that I didnt take any pictures and my pint languished sitting on the bar. A real bunch of top notch players and I could only be proud knowing three of them personally.
Franklin made it through the evening with style and grace and with the fun we all had and a moniker like Poskapalooza lets hope we do one every year.