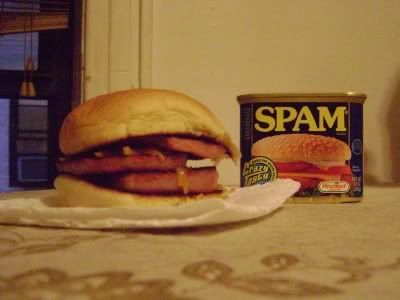 Lord knows whats in it but every once in a long while I crave it.
In the Can:SPAM.
In the Sandwich:Fried Spam,Shredded Cheddar Cheese (Velveeta would have done better to the eye and on the buds) nestled on a Grilled Potato Roll.
9/5/09 - Jalapeno Havarti Spamwich
9/9/09 - The Rutles Spamwich with Cheddar Cheese and Grilled Onions In honor of 9/9/09
WHY DIRTY A PLATE, ITS SPAM.