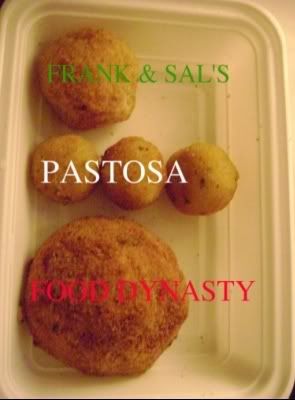 Whomever said "No two Prosciutta Ball's are created alike" was a very wise person indeed as you can see from the photo they certainly vary in size but the differences dont stop there neither. The Ingredients and taste also bare a wide variance, heres a brief summary of whats inside.
Frank & Sal's - Basically a Rice Ball with Diced Prosciutta and a hint of Ricotta (50 cents apiece) perhaps what grandma would make. Tasty enough but its a Rice Ball.
Pastosa - Oh Deer, these are Delicious and what I have been seeking on my Prosciutta Ball Sojourn this past weekend. The perfect balance of Prosciutta and Cheese. I'm assuming its Mozzarella but might be wrong ($6.49 per pound, I got 9 for $3.80)
Food Dynasty - Mainly a whole lotta Ricotta but an improvement over the Rice Ball that I didnt expect a few days earlier (a buck and a half).