Pizza Den Cold Sicilian (Center Slice/Room Temperature), UTZ Ripple Potato Chips, Boar's Head Genoa Salami.
WORKS REALLY WELL Mouth Party White Trash Style of course.
Am I Ashamed?.... NO!!!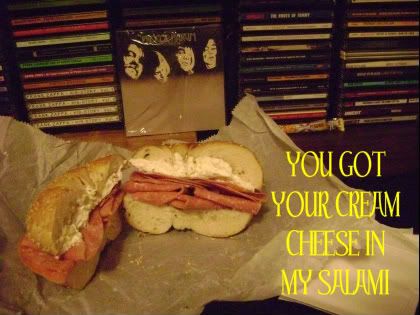 Another Genoa Salami based Dish of Yore comes to mind. Genoa and Cream Cheese on a Bagel (in this case its an Sesame Seed Bagel) This is the poor man's version of the mythical "Prosciutto Ball Cream Cheese Bagel" but I have not been able to procure the proper Prosciutto Ball as of yet in this latest sojourn.
"Never Ever Give Up Porkmeisters!!!" as Genoa Geoff has been known to exclaim.