(1/4 of the sandwich)
There were certain goodies that my dad would bring home from the island of Manhattan back in the 1970s when I was but a wee lad and spent most of my time meandering in Brooklyn rarely venturing into "the city" aside from a movie, comic convention or accompanying my dad to work on occasion.
Once a year my father would get us the comic book price guide to check on our collection's value Dad also scouted out the very earliest Star Wars buttons, books, magazines and movie program to my delight when the shops could not keep their hands on them, God bless him. and every few months I would get a Blimpie's Best* (a.k.a the B.B.) brought to the kitchen and my gleefully expectant (for I was foretold) watering mouth.
Finding myself 35 years later in front of one of Manhattan's fading selection of Blimpie locations (only 4 left as of this writing) I had to get a Blimpie Best (to go) and Loved every last bite of it, still the same and even better the day after from the refrigerator. Subway sandwiches have trumped BLIMPIE location wise (Like freakin' starbucks) and influenced their menu to keep up with a wider selection of toppings and more than one choice of Bread selection (trendy wraps too). BUT there is nothing like a Blimpie Best with The Works and never will be !!!
I am sure the original Blimpie's had Ketchup and Mustard and they always had the Hot or Sweet Pepper Slices but the Original "Everything" on a Blimpie was Lettuce, Tomato, (sweet) Onion, Salt, Pepper, Oil, Vinegar and Mayo, I don't recall Oregano and there certainly was no Bermuda Onion as seen in the photo above. I am sure they would sell you a pickle separately but "sliced" I Don't Think So (Could be wrong here) Banana Peppers, Olives or Jalapeño Slices (No Way). Well a "Subway" sign of the times and it is nice to have an option, I still get mine with "Everything" and I was happy to see the gentleman ahead of me on line also ordering a Blimpie Best footlong except he did get Oregano and my preparer forgot mine, no biggie.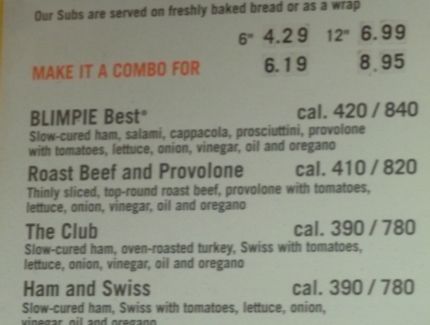 The Blimpie Best boasts the mysterious and elusive "Prosciuttini" and all these years I thought it was the equally strange and defiant (not present) "Cappy Ham" that helped greatly in giving "The B.B." that unique taste.
As my Sandwich was finalizing preparation I tried to withdraw cash from the in-house ATM only to have the withdrawal go through but the machine malfunction at the point where "Cash Disbursement" occurred!!! a quick call to Chase (thanks Jamie) took care of the "balance" problem.
"Frankly Charlotte, I Don't Give A Damn"
* - While writing this Blog entry it came to my attention that the Sandwich name is in fact NOT a Blimpie's Best but a Blimpie Best.
BLIMPIE.COM