In lots of ways I am the least qualified member of White Wedding to write an eyewitness account of any of our performances. Being as the drummer traditionally sits in the back with band members standing directly in front of them who's view is further obscured by Cymbals, Drum Hardware and Microphones oftentimes with bright lights shining in their face.
BECAUSE THERE ARE BRIGHT LIGHTS SHINING IN MY FACE !!!
So you can imagine how much of the audience I don't get to see even in the smallest of venues. I have heard tales of giggling asian girls swooning at Pedini-san, drunken sound engineers, quality Guinness, vomiting nuns and even just tonight with no bright lights shining in my face there were people supposedly doing aerobic splits (not spliffs) during our show all of which I from the back missed.
Peeking between bandmates and using the ears GOD (*) gave me I could tell that our audience was definitely into the show and growing by the end of the third set. Women Ruled the dance floor tonight in no small part due to Giseli-san bringing her friends and Tamara-san bringing hers as well, I also noticed a few people really into "Rock Lobster" that goes to show if you know that record you are going to stop, listen, smile and best of all ROCK OUT!!!.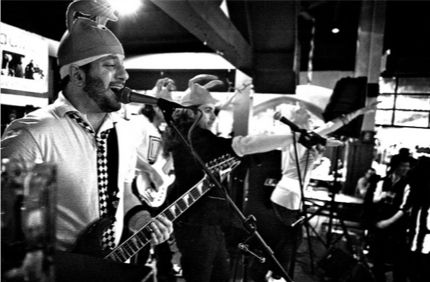 Some of the band members moonlight at Red Lobster (restaurant) after our musical showcases.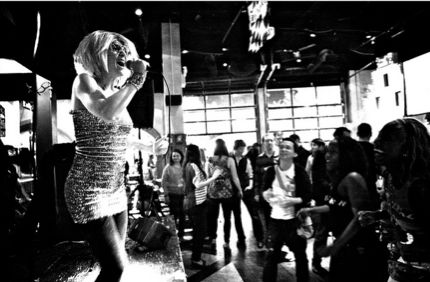 Blondie's Have More fun.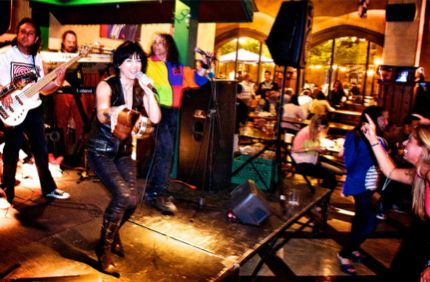 Diana-san owning the Joan Jett Set.
Bono & T.
Spike-san bestowing asian wishes 2 american people.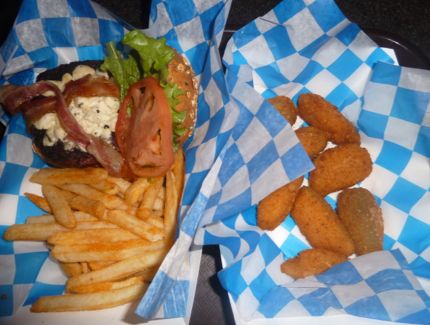 Another Blau Speck Burger (Blue Cheese, Bacon, Lettuce, Tomato) and some Jalapeño Poppers for good measure did I have pre-show.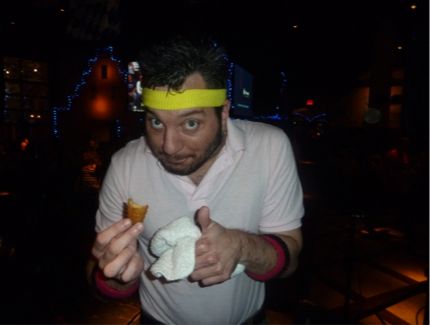 Eric-san approves of the Jalapeño Poppers undoubtedly.
WHITE WEDDING HALLOWEEN 2012, COMING SOON.
* - Hairy Thunderer or Cosmic Muffin
FLICKR
This Is Show # 171