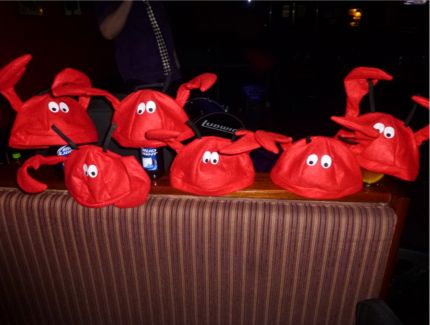 It's Bisque A Long Time Coming,... The Lobster Hats.
It has been an aspiration of Dave's for some time (over a year) that we include the B-52s song "Rock Lobster" into our repertoire just for the props alone!!! Tonight this has come to fruition and I had a Blast performing it. White Wedding's rendition (see video below) premiered in our third set. incidentally "Rock Lobster" is also one of my favorite 80s songs recorded in 1979 and one of the greatest Warner Brothers singles of All Time.
The band played well tonight however not flawlessly and I had an effortless (comfortable limbs) drumming experience aside from my "extra" quarter note after the end of Joan Jett's "I Love Rock & Roll" to which Eric replied "Good Job".
I Love this guy.
While trying to "hail" a cab tonight for our trip home (Drum Kit and Guitar/Amp in tow) and after a tiring night (it was after 3 a.m. now) I said at one point within earshot "If It All Works Out..." to which Jamie and Eric clearly heard "Do You Wanna Go Work Out ?" that perplexed and humored all concerned or so I was informed.
Four new songs were Premiered tonight, "Keep Your Hands To Yourself" by the Georgia Satellites, "Relax" by Frankie Goes To Hollywood, Billy Joel's "You May Be Right" and "Rock Lobster" by the B-52's. Exciting, YES.
A fan gives the band the Mollochio, It Didn't work.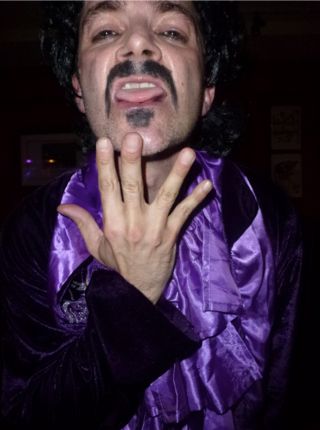 "NO!!!, Its pronounced Beef Wel-LING-ton you silly person"
"NO!!!, Its pronounced JOAN JETT!!!"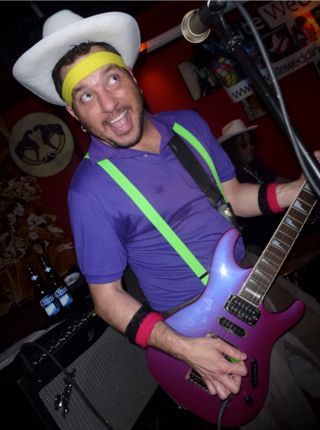 I Love to Singah about the Moonah Innah Juneah and a Springah, I Love to Singah.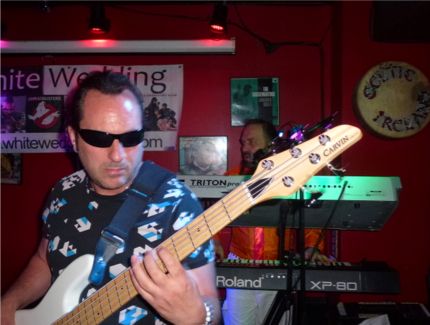 "Bond,..... James Bond."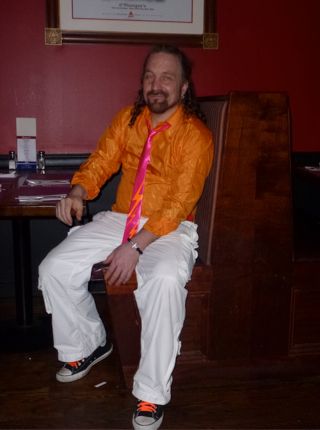 Snap It Pal.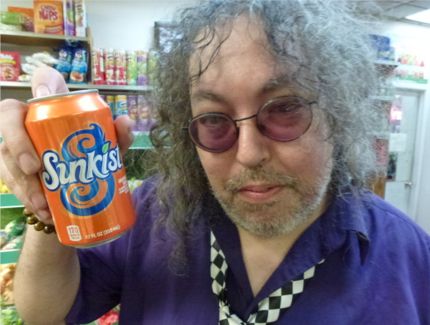 After the first set I needed a shave and craved an 80s Orange Soda but not just ANY 80s Orange Soda!!!
Had To Be A Sunkist. It's been well over a year I had me a Sunkist and Orange is still the Most Evil Soft drink flavor out there, Talk about making you want to keep drinking More & More Soda !!!
Jamie was our camerawoman not only for all the pictures (of people) seen in this entry but also for our Live video feed to Ustream.com via J.C.'s iPhone via the World Wide Web via the Internet.
A Most Delicious Bacon Cheeseburger with (dare I say almost too much Bacon) Tasty Steak Fries garnished with Dill Pickle Slices, Bermuda Onion Patty, Tomato Slices and Romaine Lettuce Leaves.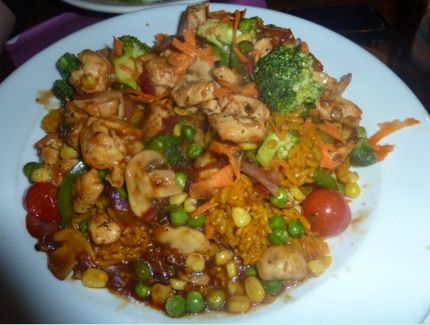 Jamie had the Teriyaki Chicken and while she felt it was a bit heavy on the Teriyaki Sauce the "inner asian" in me thought it was just right.
Premiere Performance of "Rock Lobster"
FLICKR
This Is Show # 170