New York Subway's closed on Sunday evening at 7 p.m. in anticipation for Hurricane Sandy so I got to Jamie's house before the curfew with some supplies (Vodka and Chocolate too).
My first stop was the local Waldbaum's in my neighborhood and aside from long lines at the register the Bread section was decimated, My patience got the best of me and fast so I decided to get on the train (while I still could) and shop at the market by Jamie's house.
Sunday evening and the city prepares for the worst, meanwhile in the kitchen Jamie prepares some fresh Chicken Cutlet's she got from the Turkish store downstairs replete with an impromptu version of Dirty Water Rice, Mesclun Salad and Shredded Cheddar Cheese over the top. Jamie concocted the "Bowl" version as opposed to my "Plate" version so I stole her idea and followed her lead, mine had Franks Hot Sauce on it as well.
We watched "The Green Mile"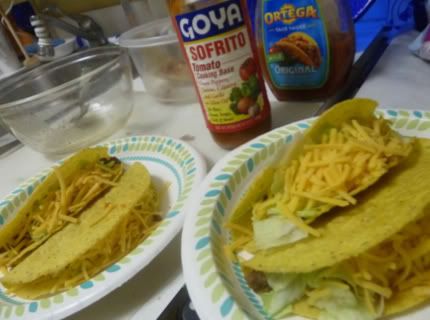 Monday it got blusterier as the day went on and we did some shopping at the corner store (Thank God I got Crunchy Cheez Doodles) by early evening Sandy made landfall and we had Taco's during the Hurricane which was mostly wind and flooding on the coastlines and not so much rain, Jamie lives in walking distance of Sheepshead Bay (which contains water) and the next day we heard flood waters had risen to just down her block, Jamie was in Area "B" but they only had to evacuate Area "A".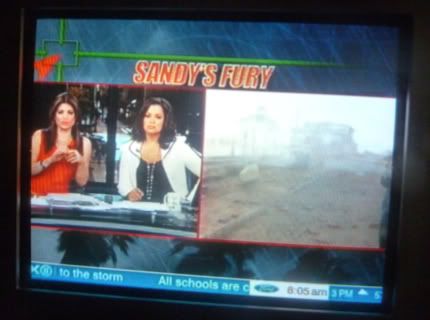 Tuesday morning and I awoke in the pre wee dawn hours with not much sleep at all and from the looks of it neither did the two newscasters I was watching who were just there twelve hours ago, These hottie chicks must be on blowski.
The wooden construction fence adjacent to Jamie's apartment entrance was toppled during the storm but not much else seemed radically different on her block.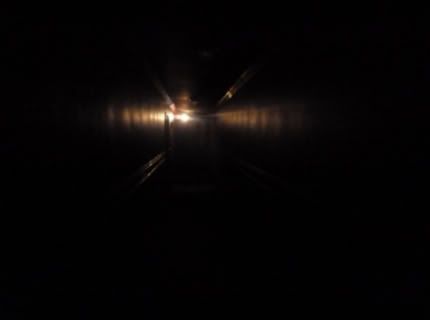 Tuesday evening and the storm had passed us, at 9:13 p.m. there was lights out in Jamie's apartment, this lasted for nearly three hours and after I had left for home as well. Pictured here is the emergency Floodlighting in her hall.