Then there was the case of the 2 extra tickets that I had taken insurance out on only to find that this was "Real" insurance and that I would need proof of cancellation reasons of which I had none. I placed ads on Facebook, Stubhub, Craigslist and various Facebook fan sites (Thanks for reminding me Jamie) to no avail over that weekend. Concerned about possibly eating an four hundred and fifty dollar investment I only got about three hours sleep at Jamie's but found out that morning that my friend Concetta from 25 years ago wanted a ticket. Later that day around 3 p.m. the other ticket was sold on Stubhub. I would have slept but there was a show to get to, actually I did nap a little.
The RUSH concessions stand.
Jamie and Concetta on line at Calexico. I had the Nachos, Jamie had the Quesadilla and Concetta Double Fisted it with 2 Beers.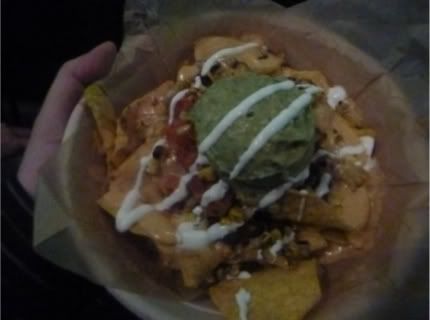 I enjoyed my Nacho's from my seat under slight duress as Rush do start on time considering this is a 3 hour show with no opening act, They came on maybe 10 minutes late giving me due time to enjoy my Crunchy Goodness.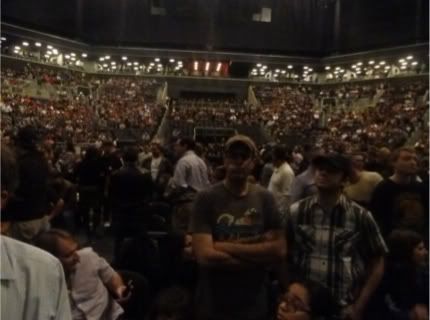 and this is what was behind me.
And afterwards a reunion of sorts. Kenny and Carrie just happened to by chance get seats right next to Jamie and Charlie who knew I was in the same arena. Kenny called me right before the band went on and during intermission and we planned to meet up, thing is Kenny didn't know I was with Concetta so we had the element of a 25 years in the making surprise. Photo taken by Jamie.
(L to R) - Spike, Concetta, Kenny, Al (Everybody's Pal), Jamie, Carrie.
(second row) Charlie.