Rush is not a "Hits" band but an entity in itself and to some like me feel like old friends, What differentiated the set list on this tour from previous tours is that a few "Hits" were saved for the end of the show but the entire first half of the show was comprised of deep cuts (as they say) and album tracks. It was a pleasure to hear songs like "The Manhattan Project", "Force Ten" and "Bravado" performed for the first time in many years.
My first concert ever was Rush on the "Moving Pictures" tour of 1981 at which they performed 6 of the 7 tunes on that record ("Witch Hunt" notwithstanding). Time was allotted during their sets on following tours for the "Hits" and a healthy dose of a track or two off every album from their growing back catalogue that only left room for maybe 4 or 5 songs from the latest release. On the Clockwork Angels tour the setlist is sequenced with 9 songs from their newest album (Only 2 tracks "BU2B" and "Wish Them Well" were left out) which is unprecedented in the most Awesome Way and appreciated since the new record is so strong. Joining the band onstage for this portion was the Clockwork Angels string section, a first.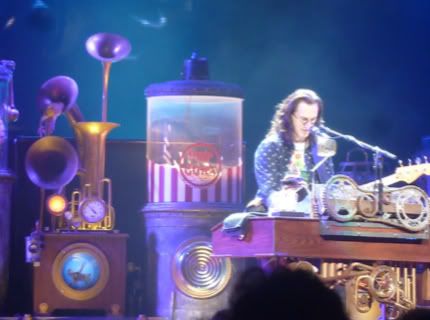 Geddy.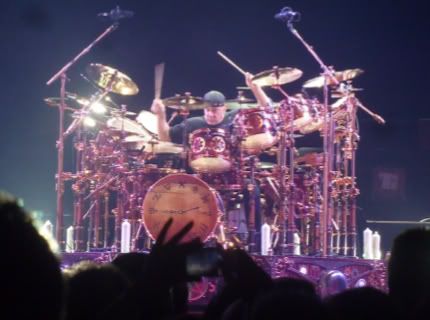 Neil.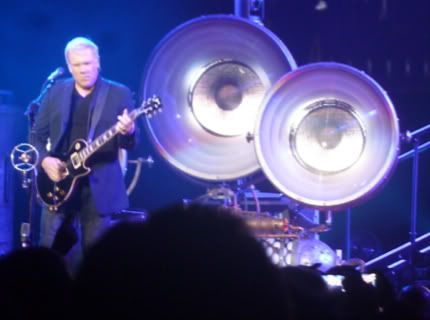 Alex.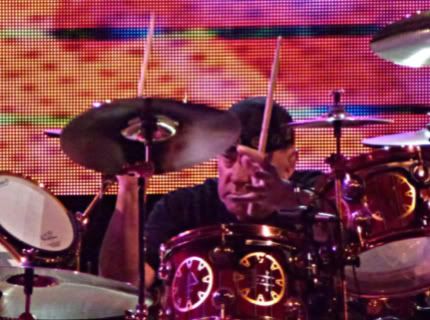 RUSH AT BARCLAYS CENTER 10/22/12, SETLIST - Subdivisions /The Big Money /Force Ten /Grand Designs /The Body Electric /Territories /The Analog Kid /Bravado /Where's My Thing? /Far Cry /INTERMISSION /Caravan /Clockwork Angels /The Anarchist /Carnies /The Wreckers /Headlong Flight (with drum solo) /Halo Effect /Seven Cities of Gold /The Garden /Manhattan Project /Drum Solo /Red Sector A /YYZ /The Spirit of Radio /ENCORE /Tom Sawyer /2112 Part I: Overture /2112 Part II: The Temples of Syrinx /2112 Part VII: Grand Finale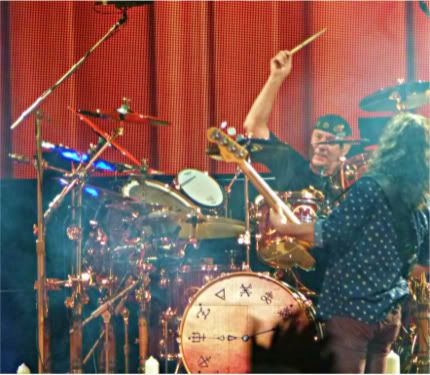 Last 2 pics by Jamie.
Overture/Temples Of Syrinx.
THE VIDEOS
I peeked at the setlist so knew when to roll it for "Clockwork Angels"
I'm watching this thinking "WOW, Grace Under Pressure" then thought FILM IT You EEEDIOT !!!
In the 'Clockwork Angels' novel Owen Hardy witnesses a windup Drummer as one of the sideshows in Chronos Square that mechanically flounders ending its solo prematurely, I was pleased to see Neil playing with a CGI windup drummer behind him bringing this scene from the book to life, Neil did not flounder but the backdrop film did. This clip and the next two were taken by Jamie.
YYZ.
The Spirit Of Radio.
Jamies Pics