The band played a private party in midtown on 12th avenue and 42nd street right across the street from the circle line of which whose neon marquee I kept glancing at through the windows behind me all night. Not only was this a birthday party but the birthday boy himself proposed to his girlfriend standing two feet in front of me as he was announcing "Best 80s" costume awards and then proceeded to sing the intro and first verse of the Georgia Satellites Hit "Keep Your Hands To Yourself" with the band that incidentally he requested we learn especially for this occasion.
Premiered tonight was Maroon 5's "Moves Like Jagger" and U2's "I Will Follow"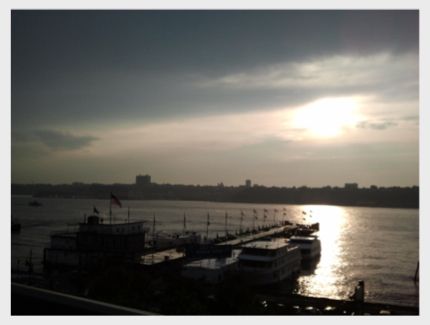 Eric took this beautiful shot of this view of the Hudson River with his cell phone.
Prior to us going on Rob said he had a present for me and presented me with the other half of his dinner (and I do not mean that he vomited) that he had purchased at "Sandwich Planet" and being a man of good taste it was a "Sopranos" Sandwich (Prosciutto di Parma, Toscano Salami and Provolone on a Rosemary Focaccia Bread) which was most Delicious and to top that off Rob didn't even realize that I was starving and didn't have time to eat before the show and was so late (due to traffic) that I would only have time for a drink before we went on, in this case it was a Purple Passion (Vodka and Grapeade) but that's another story.
O.K. If not the Best Lemon Chicken/Chicken Francaise I have Ever Had this stands amongst them.
By this time we had played our first set and I was full of Soprano and Purple Passion, at these private events so long as we are privy to the Food Dais I always try the Chicken Francaise when on menu. Superbly Tender Cutlets are Floured and served immersed in Aromatic Lemon Butter Sauce. If you don't believe me ask Eric who also was floored by this delicacy catered by Avellinos.
Such a catchy tune and fun to play, none other than "Moves Like Jagger".
Sandwich Planet site
Avellinos Pizza site
This Is show # 175