Tonight Rob was dancing on the tables which is not an uncommon sight during our shows but we also had Dave leaping off the seating for "finale/Townshend" effect and an audience member up on the table just friggin' dancing on their own volition.
The crowd was into it and so was the band during this windyish outdoor performance. I also enjoyed the onlookers/non-bar patrons outside the perimeter myself who were just enjoying the novelty of amplified music along 86 Shorefront Parkway. so it was a nice outdoors show overlooking the beach that leads into the vastness of the Atlantic Ocean Real Vast Like.
Premiered tonight was "Rockaway Beach" (full band version*) which we wuz learned for this occasion.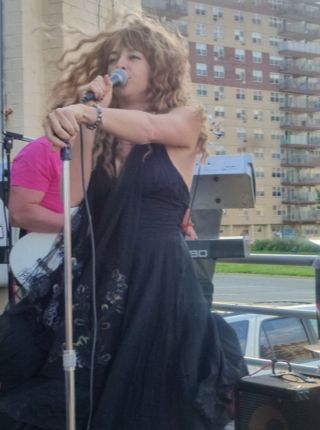 Diana whipping the crowd into a Nix frenzy.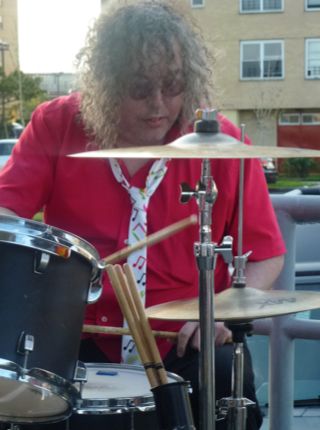 a few days after this show I was in the subway refilling my Metrocard and this conversation took place between the token booth clerk and myself.
me: 10 dollars on this card please.
token booth clerk: hey man I've seen you around, are you part of the rock scene ?
me: yes, I'm in a few bands, maybe White Wedding the 80s tribute band
token booth clerk: nah man not that far back
I give him the thumbs up and on my way.
Eric The Brave brandishes his Ibanez (sounds like a dirty limerick doesn't it ?)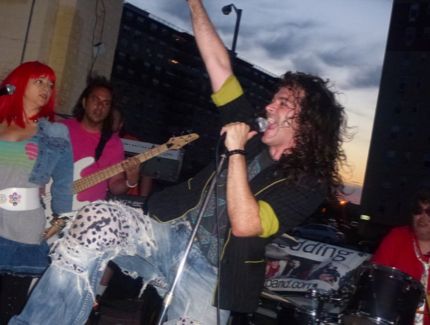 Rob raises baby squid & sea monkeys as a hobby and would like to help the world to sing in perfect harmony.
After-show Diana asked us to watch her shoes and went sauntering onto the beach as Jamie, Eric and myself enjoyed the view & refreshments from the boardwalk (a few stiff Rum & Coke's) whilst conversing about everything from grapefruit's to gorgonzola.
Eric searched for Diana amongst the moonlit horizon that the deep blue jeweled beach offered him.
Diana returned after a spell with a few balloons that she had adopted, mind you we (or even Rod Serling) have not a clue where they came from but they are friendly, cuddly, housebroken and spayed.
Smokin' in the boys room.
Online Promotion Poster, a Virtual Poster as it were.
We ended the show with a medley of Ramones tunes consisting of "Rockaway Beach/Blitzkrieg Bop/I Wanna Be Sedated" and encored our encore with Def Leppard's "Pour Some Sugar On Me"
* - White Wedding did play an improv version of "Rockaway Beach" at Thai Rock but it was only half the band improvising (Rob, Spike and Paul Little on guitar)
This Is Show # 172