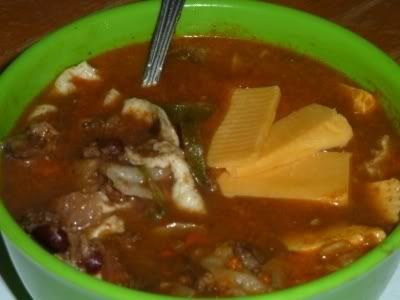 I would Really like to take credit for this but it was just a logical extension of my take out eating habits and I am sure that Burrito Soup already exists somewhere. This All happened quite by Delicious Accident.
A few months back at J's house I was on a big Soup kick so we ordered some Chinese Tex Mex and I tried the Black Bean Soup (Horrid) and the Chili Soup (Should Be Horrid) which was too Salty even for my tastes and appeared to be a simple combination of Chicken Broth, Shredded Cheese with Chili and a few Scallion slivers tossed in, doesnt sound so hot but I became obsessed.
By the second or third time that I ordered the Chili Soup (I had graduated to Quart size by now) I took a piece of Chicken and Cheese Quesadilla and submerged it into the broth and a "Eureka" moment was born.
Just the other week J ordered a Steak & Chicken Burrito which swayed me away from my usual Quesadilla and Soup into the land of Burrito and Soup and due to the circumstances of eating before you eat (while waiting for delivery we had Wonton Soup, Hot & Sour Soup and two Wrap's with Peppers, Cheese and Homeade Chili melted within) making my appetite indifferent. I took the Soup & Burrito home with me and a day or two later had to use Le microwave to reheat them and in a "fit of pique" cut off a piece of Burrito which I diced then submerged in the Soup Broth much like a Fresh Mozzarella waiting in its underwater lair.
I Can Only call it a Chinese Mexican Stew. Its SO GOOD it should be canned and marketed preferably by some Chinese Mexican day laborers.
WINK WINK : Incidentally those are three slices of Cracker Barrel Extra Sharp Cheddar floating upon the broth for effect.