Nancy couldn't make it to this show but fortunately at the very last minute we got Mike's friend Cora to fill in at this important wedding performance and she did a great job singing and dancing with very high energy. Rob did his usual outstanding emcee delivery introducing the wedding party under an audio bed of "Walking On Sunshine" and the band played a tight evening of music in very cramped circumstances, I could not get much action from my bass drum pedal (much less get out from behind the kit) since I was crammed against the wall but this is just another one of those challenges a gigging musician sometimes has to deal with.
Unique to this performance was renditions of Van Morrison's "Sweet Thing", Men At Work's "Who Can It Be Now" and Loudon Wainwright lll's "Daughter". Unique for White Wedding is that a member of the party requested a song that we NEVER played before and we winged it in a live setting which was not a Pub either (no offense to the pub's), at first I had no idea what song it was mainly because I don't really know the song but everyone else does. We performed Poison's "Every Rose Has Its Thorn" as part of the Metal Block and it sounded just fine too.
Tonight's M.V.P. in my book, Cora for doing an Amazing job and fitting right in.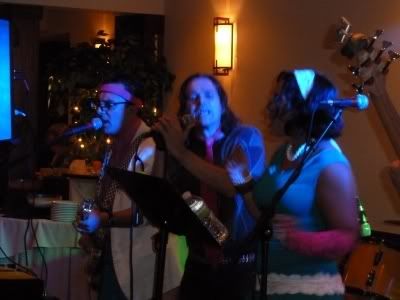 Like most working bands we continue to build strength to strength, Next thing you know we will be performing songs we never played to live audiences!!! oh wait ,.....
Once again Sean and Ginger provided sound and lighting for us and you can find them at
Boardwalk Entertainment
The Kobe Burger - 10 ounces Kobe Beef, Humboldt Fog Cheese, Garlic Butter, Arugula, Red Onion, Tomato & Mayo on King's Hawaiian Bun, Salt Creek Garlic Fries Too.
Cora runs through her songs at the Callbox right before heading to the reception. Notice Dave in the background giving us the "slow down" hand signal, we were speeding on purpose so we could get on the road already.