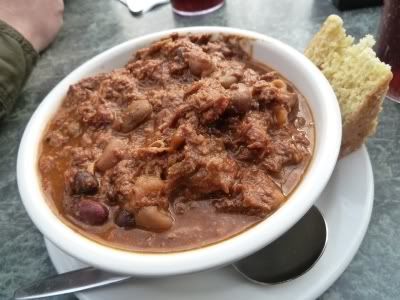 Five Nickel Chili named as such since she is made from Five different Chili's which must also be Delicious on their own. I became an instant fan.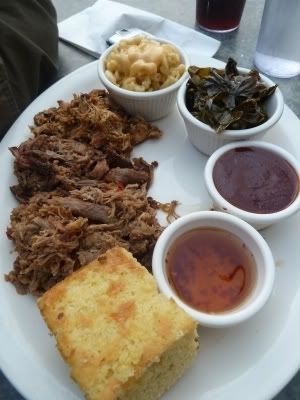 Bitter Bob's Tasting Platter - Jamie substituted a few Ribs with larger portions of Pulled Pork, Pulled Chicken and Brisket. Complimenting the Meats are sides of Macaroni & Cheese, Collared Greens, BBQ and Vinegar Dipping Sauces with Cornbread.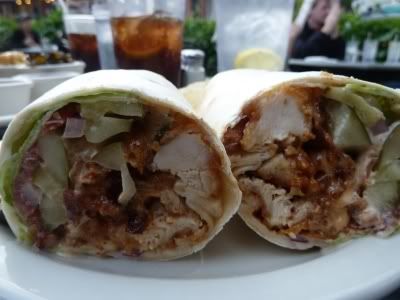 The WHALE - When I ordered this our server Ryan responded to me by repeating "THE WHALE!!!" and I knew this might be some fun. All Sandwiches come with Potato Chips & Pickle with an option of French Fries for $2.00 more and seeing that The WHALE included French Fries within I took the Chips.
The WHALE Is Diced Chicken Fingers, Bacon, French Fries, American Cheese, Diced Pickles, Red Onion, Lettuce and Tomato with BBQ Mayo served in a Wrap.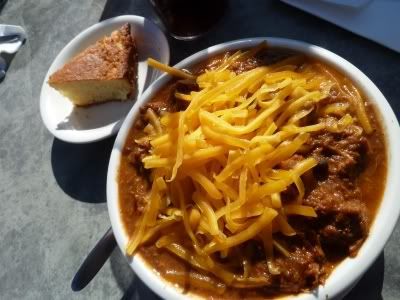 The next day (Monday) as Jamie and myself cavorted about town it was undecided where to settle down for Lunch, there was a deciding factor for myself and it was the Double Nickel Chili from the day before, This time I ordered her with Cheddar Cheese on the top and when I was almost finished I deduced that I need not have ordered the Lunch that I did as I was quite satisfied with the Chili.
I thought Jamie ordered the Burger Of The Day which was the same as yesterdays but still just as impressive. Half pound Peppercorn Burger with Blue Cheese, Salsa Verde and Chipotle Mayo on the side but this is a Turkey Burger,... Looks Amazing.
My mind was made up to order a Good Old Fashioned Hamburger and I would have gotten what is pictured just above but Jamie told me I Had To get the Wrap with the Mozzarella Sticks inside that we had seen on the menu yesterday, Well, Its kind of hard to argue with a Mozzarella Stick and such a Foodified challenge. But I Digress.
The WEST END MASSIVE (seen above) is Diced Grilled Hamburger, American Cheese, Bacon, French Fries, Mozzarella Sticks, Lettuce, Tomato and Red Onion with Russian Dressing served in a Wrap.