Coming just one week after our last wedding performance it becomes easier to grow accustomed to working in a hall/dining setting with breaks in the set dictated by the festivities as well as the actual festivities, food, drinks, dancing and high spirits apparent at a wedding reception. We all had a Blast doing our jobs and continue to grow through experience.
Songs unique to this performance were two by The Misfits, "Where Eagles Dare" and "Astro Zombies" this is also the show where the bride and groom entered the proceedings to the "Emperor's Theme" from Star Wars which we all found very cool and amusing a few months back when we got the details.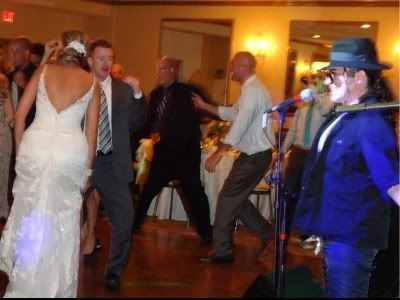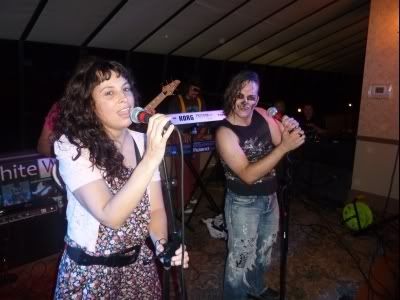 Unique shots of Rob in his "Danzig/Misfits" personae since this may be the only time it ever happens.
This and the last photo get published just because I (Drummer of said group) took them while the band was playing ("Dont Stop Believing") and I had a second to step out in front amongst the crowd before my Drum Cue went off. We had passed our curfew so there was no time for Rob to get out of his makeup.
I would like to thank my friend Ham for appreciating The Drumming especially this evening (I am told that his friends were also All About The Drumming) and my personal feeling can only be described as elated when you realize you are elevating someone to have so much fun. I could only feel blushful when being told my playing was "On A Whole Other Level!!!", All modesty aside folks, I can carry a tune to its end and successfully play in an ensemble but the "Other Level" is Well,... for those "Other Level Dudes".
Ham and his buddies really made my night though, Thanks Very Much guys.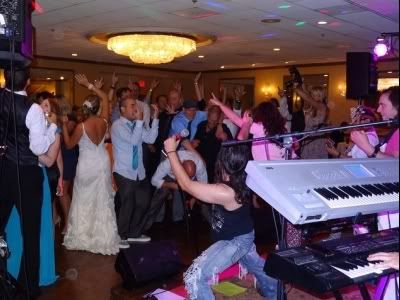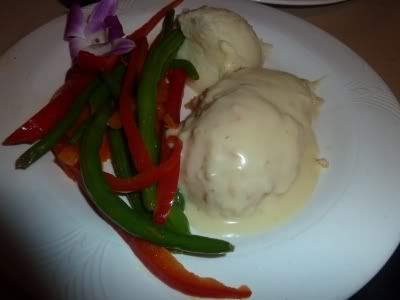 Stuffed Chicken (with Gravy), Garden Vegetables and Mashed Potatoes.
FLICKR