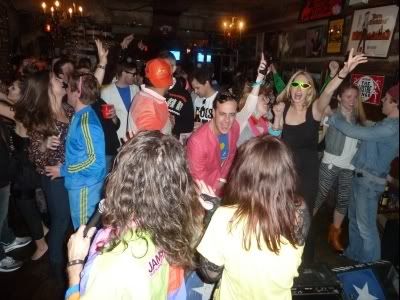 One of the funnest and gratifying shows I have ever experienced due to a very receptive 80s crowd who really dressed the part. It looked like an infinite sea of dancers from my admittedly myopic vantage point. Spicoli had me cracking up a record number of times this evening and the entire band played a tight set with crowd pleaser after crowd pleaser pleasing the crowd.
There were a couple of White Wedding first's tonight, for one we did a Crazy Thing and played a song that we have NEVER Played Together EVER live onstage at a decent paying "private party" show (The Promise by When In Rome which was requested a few days gig-prior) that went over Big, and for another first (due to time constraints) the club turned off the microphones right after we finished our announced last number (Dont Stop Believing) but before our encore (what would have been Fight For Your Right) leaving the crowd Really Wanting more and going off to speak to the manager and sound engineer to no avail.
This was also the gig where I tried on a more exotically fashionable 80s pair of shades (non-prescription) which handicapped my view of the drumkit and fellow band members considerably and due to the glasses closer proximity to my face turned my eyelids into sweat factories and even worse than dropping a stick no drummer drumming or even anyone at all wants sweat in his/her eyes, This was a science experiment in convection proving that you can indeed be Blinded By Science.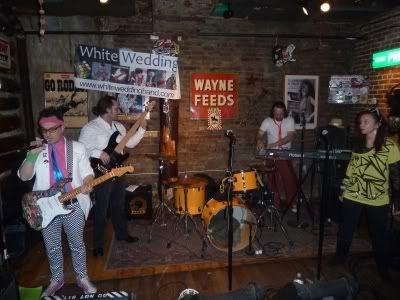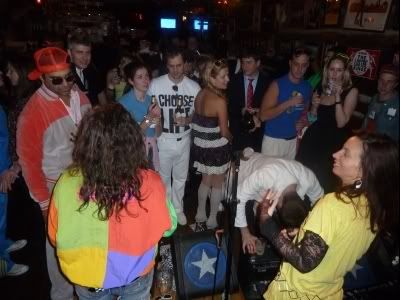 Meanwhile Back in the States ....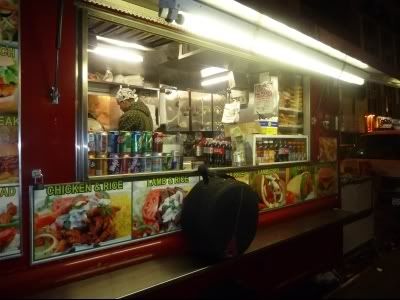 Famished after the gig I seeked out a Gyro Cart for some Gyro Over Rice (Lamb & Rice as it is now called) with White Sauce and Hot Sauce which I had a few forkfuls of on the glamorous & aromatic 34th street D platform taking the remainder of foodage home. Either I havent had Gyro and Rice for some time (and I havent), I Was Starving (I was) or this particular cart knew how to make it really well (probably a combination of all three) but this was some Extremely Tasty Gyro & Rice.