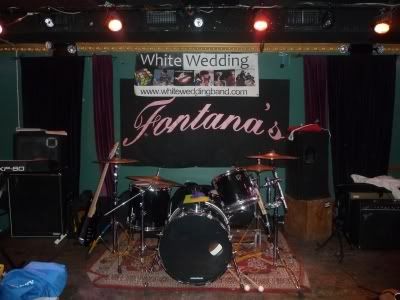 Another Great 80s Themed Party and the crowd were with us right from the start. As a rule I try never to start playing the drums while someone is talking/standing right in front of me since it's probably a lot ruder than just talking over somebody (in the least certainly much louder) but the way Fontana's had it setup is that the party would begin upstairs and the "Live Band" would be performing downstairs at ten. As the Interested and Interesting crowd entered I could hear lots of excited conversation of the "Expectant" type of which I had to interrupt to begin our set But!!! We did have a job to do and for Bueller's sake The Show Must Go On which it did and We All Had A Blast !!!
Fortunately and thankfully we have exceeded the crowd's expectations Time After Time (incidentally our opening number tonight) so I can only walk away proud of our accomplishments and tonight was no exception with air guitarists (wielding the balloon kind) gleefully buzzing the stage (on and off) rocking out to their favorite tunes, This was a Great crowd and energy fed off of energy.
The photographer (in this photo) with the flash going off quite likely has a photo of me taking the pic from the stage with my flash going off just the same which makes it all freakytrippykool.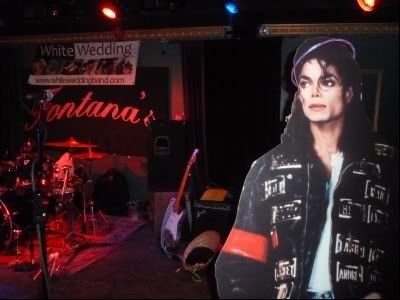 We asked if he would jam with us tonight but Michael said he wasnt there to be a star.