Due to the recent frequency of our shows the high pressure gigs are becoming low pressure gigs and the low pressure gigs are becoming no pressure gigs so it was quite a bit of fun to return to the Bally Bunion for some Bay Ridge Brooklyn entertainment as only Bay Ridge Brooklyn can provide, Namely I had a nice time watching the crowd dance as we played away three sets into the night being entertained as we entertained, Always A Good Thing.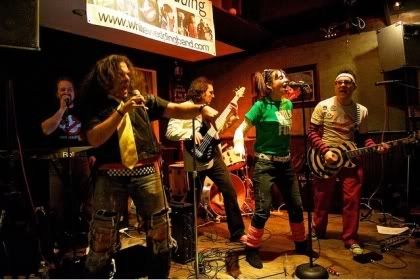 The DW snare drum sounded absolutely cracking tonight, Speaking of cracking so did my "not so old" Sabian AAX 14" X-Plosion Crash Cymbal !!! well a little crack on the leading edge but the fat lady has already sang her last 80s aria. When I first purchased my Sabian AAX set I exclaimed "Cymbals For Life!!!" I now duly eat my words less than a thousand hours later, What Gives??? ,...... these were only played maybe 400-500 hours!!!
My Sabian cymbal (foreground) when it was brand new just two years and four months ago (B.B. King's 10/17/08)
Cracked Sabian AAX 14" X-Plosion Crash (It happened onstage during Love Shack) (Bally Bunion 1/15/11)
The Bally Bunion Burger which always comes with Cheese and Bacon is Juicy and Delicious.
With our fans Lorie and Marlene.
White Wedding/Bally Bunion mainstay Clay won the trivia contest this time around and after all of the kinetic energy that he has entertained us with I am glad that he did.
FLICKR