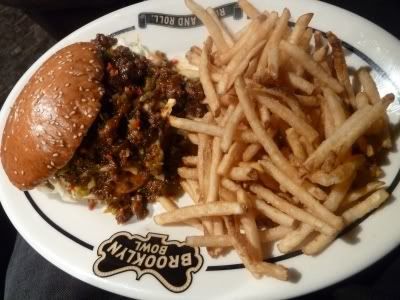 1/3/11 (Pre-Gig 7ish) - Simply The BEST, If an individual needs a belief system then let me Believe in This.
Sloppy Joe, Coleslaw, Pickled Peppers on a Bun With French Fries, Served with a knife and fork which you will need.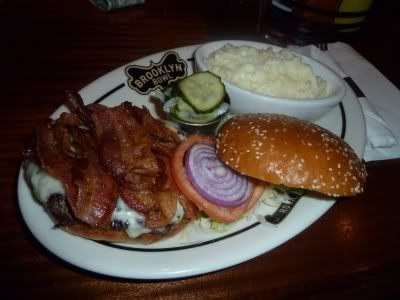 1/3/11 (Post-Gig 12ish) - Brooklyn Bowl Burger - Beef Burger topped with Bacon and Cheddar Cheese, Side Of Mashed Potatoes Of The Most Buttery Kind, Sour Pickle Chips & THE Bermuda Onion/Lettuce/Tomato Triumvarat.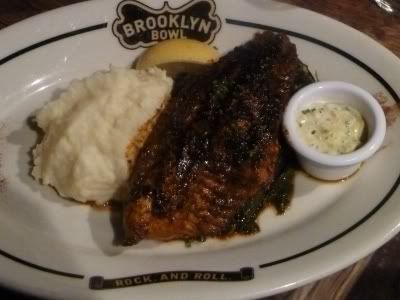 1/10/11 (Pre-Gig 7ish) - Cajun Catfish (Blackened) with Mashed Potatoes & Collards (with Bacon) - Being a Cat lover I thought that I would really enjoy Catfish and while I finished every last scrap from the plate (our minder Lindsay told me "I see you didnt like it, I better tell the chef") I found CatFISH to be a little too Fishy for my tastes. HOW DARE MY FISH BE SO FISHY, It was Delicious and so were the Creamy Potatoes and Flavorful Collard Greens which is concealed under the fish in the photo.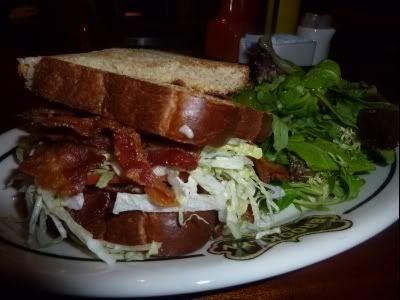 1/10/11 (Post-Gig 12ish) - BLT with Olive Oil Mayo on Toasted Country White (Greens on the side) - The first dish I had at
The Bowl that I found just plain Good but nothing to write home about, Mind you no complaints at all and the Bacon was done to perfection.
1/17/11 (Post Gig 12ish) - Chicken Muffaletta with Olive Salad and Roasted Garlic on Ciabatta Bread. This was most tasty but I could not taste any Roasted Garlic, Did I mention that the French Fries are close to perfection.
1/17/11 (Post-Gig 12ish) - Jamie had the Really Sloppy Joe under my recommendation which she liked but felt there was too much Coleslaw and from the looks of it there was certainly more than on mine from a few weeks back but nonetheless I did have to steal a bite of my favorite Brooklyn Bowel Culinary creation yet. She also had the Homeade Macaroni & Cheese Baked with Bread Crumbs which is Amazingly Cheesetastic and anything but crummy.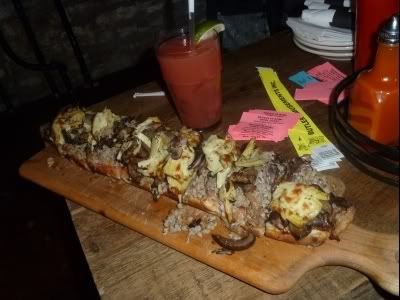 1/24/11 (Pre-Gig 6ish) - "The FATTY" French Bread Pizza topped with Pepperoni, Ham, Pulled Pork, Sausage, Onion, Mushroom & Eggplant is clearly more than enough food for one person and would perfectly compliment a pitcher of Ice Cold Brooklyn Bowl Pale Ale but as I had this for dinner gig-prior there wasnt going to be any excessive drinking going on. The Ground Sausage was a nice touch and the Ham was in teeny little cubes that would make any swiss craftsmen proud. Deeply Satisfying.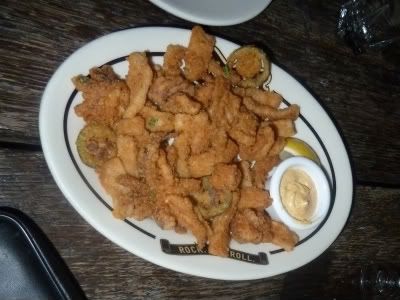 1/24/11 (Post Gig 1ish) - Fried Calamari with Lemon & Cayenne Mayo and Chillies, Thats how "Chillies" is spelled on the Menu so I will go with it and its the Chillies that get special mention here. Breaded and Fried Jalapeno slices (wheels) were out of this world and of course of the mild quality so as not to take anyone off guard. The Calamari itself was served in strips as opposed to "wheels" and the tails were served as tails (not tales). Fried to perfection with Delicious Dipping sauce.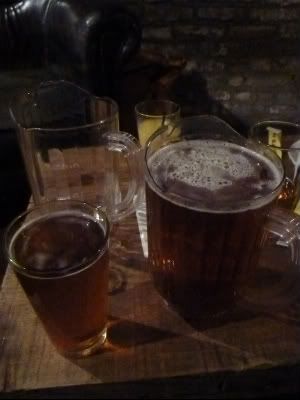 And Every night we enjoyed some Delicious Brooklyn Bowl Pale Ale which is brewed on site, Light in color but Dark in Flavor.