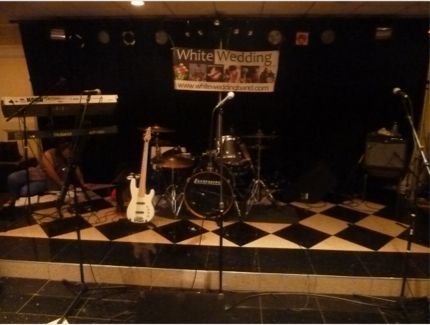 Nestled inside the lobby of a Quality Inn hotel is the Junction 46 hotel bar (not the butter), a dining room and banquet hall, we played the banquet hall. Junction 46 has an in-house audio engineer and stage monitors so everyone and my Bass Drum was very happy and could hear everything, always a plus. Everyone loved us and a few new doors opened, incidentally we listened to The Doors in the car on the way up.
During the Michael Jackson segment Rob had me in stitches as Michael introduced Cyndi Lauper on stage and his third number "Beat It" by exclaiming "Me and Cyndi worked together before, We Were The World, This is a song either about getting the crap kicked out of you or enjoying some time with yourself, I dont know"
The band performed very well tonight and I thank Dave for mentioning it because it made me play with that much more confidence and as we know confidence equals conviction.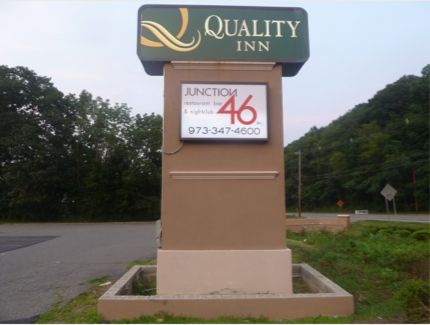 Entrance to the parking lot.
It's Alive, ALIVE I TELL YOU !!!
After many outdoor gigs where you are in fear of your set list blowing away and many indoor gigs where you have to reach down to ground level quickly to check the set list between songs only to find it has slid under an amplifier or behind the stage I finally put my invention into use.
Now if we can only give it a name.
Between sets Diana munched on some Sweet Potato Wedges and sipped White Wine.
We were making very good time zipping our car to the show so we stopped off at a local Whole Foods at first to use the restroom but then the product variety and savory goodness took hold of four sixths of the helpless White Wedding clan and we stopped over for a bite to eat, I Mean How Could You Not !!!
First Off it's Diana (the band's foodie) favorite place and as soon as I set eye on the Edamane Succotash I became completely transfixed. Diana and Rob got Sushi (my very close first choice) which from my seating angle at dinner looked like Sugar Cookies, Eric chose the most promising Turkey Bacon Panini only to find it too dry to really enjoy so he got some Mustard packets and made the best of it. I saw some Indian Food at the Salad Bar and my mind was made up!!! Pictured above was my Dinner in a box which is (clockwise from 3 o' clock) Vegetable Pakora, Dirty Rice (they did'nt have Basmati or Saffron). Chicken Tikka Masala, Vegetable Samosa, Curry Chicken.
Delicious and the Chicken was "Pulled" or "Shredded" which is a very nice touch.
Fizzy Lizzy Yakima Grape!!!! Amongst the Hundreds,... maybe Thousands of beverage choices at Whole Foods how could I resist a Fizzy Lizzy ? and she me.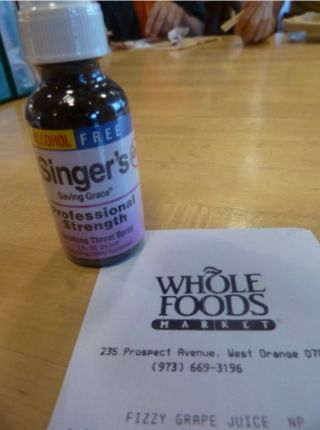 Rob also chanced upon a product he endorses, namely Singer's Saving Grace. Gleaning the ingredients list I was surprised to see "Jack in the pulpit root" amidst the compound as he used to be my local parson.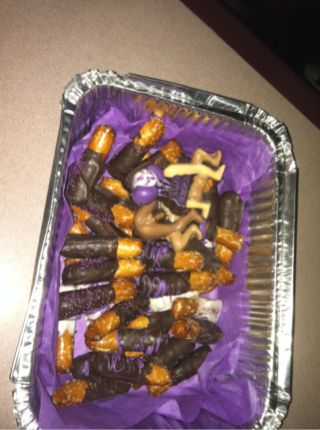 I met Brenda and her friends who had just gotten back from a Fuckaware party with some goodies.
Take a look at the F&%King Chocolate.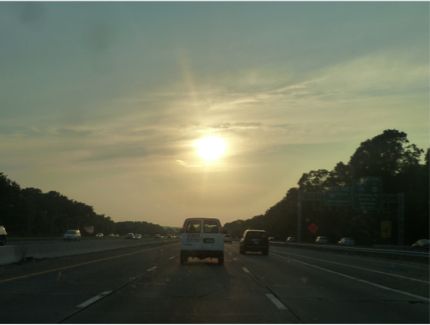 On The Way To Ledgewood and Victory.
-----------------------------------------------------
And Now, a rare glimpse into the mysterious world of "Soundchecks" as captured on my iPhone from behind the drum kit.
Rob referencing the Greatest Rock Film Of All Time "This Is Spinal Tap" as he often does at soundcheck to my delight.
Latina Diana befuddles our sound technician for a moment but all is well in the outcome.
Eric tells us "Hello" and sings it too.
This man has an endearing smile (5 second mark).
This Is Show # 183