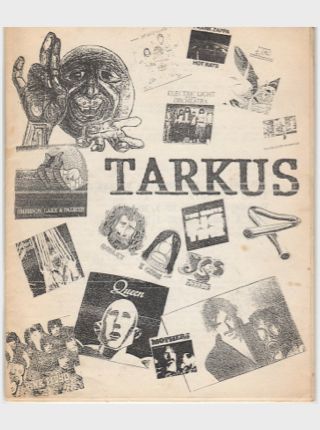 In the 1970s I used to read ad's in comic books and magazines selling 16mm (millimeter) "best of" reels and concert films (that were in many cases silent which always puzzled me) and wether or not it was eight minutes of "The Creature From The Black L
agoon" movie or six minutes of Led Zeppelin at Madison Square Garden (probably shot by a fan) these were still "rare" films and things you could playback at your leisure on a projector back in those Pre-VCR days of 1977 whenever you liked, Imagine That.
During my teenage years I pretty much became the hopeless case vindicated in The Kinks song "Rock and Roll Fantasy" and Ray Davies subsequent short story and was aware of the underground, bootleg, pirating network out there but had no access to it (and it was illegal) so I began my own collection by taping (onto cassette) Rock Documentaries, interview shows like Rockline T.V. appearances like KISS on 20/20, Queen on Saturday Night Live and Concert programs like The King Biscuit Flower Hour to cherish these recordings whenever I liked time and again, Imagine That.
A few years passed on and I was in my own band but also spending years devoted to Music and poring over record sleeves, magazine articles, reference books (at the library and bookstore) and promo copies of anything Rock & Pop Music related that my dad would bring home from work I started to become knowledgeable on the topic and like most knowledge it craves More Knowledge.
Well, there were plenty of CDs, Books and Videotapes to keep me occupied or were there ?
Leaving a Peter Gabriel concert ('SO' Tour) in 1986 I noticed a single sheet flyer peppering the windshield of the cars in the parking lot so I picked one up and read that Sandy Cannon of Vauxhall New Jersey had some "rare" footage for sale or trade and aside from Peter Gabriel there was some ELP on the list and they were my favorite band at the time. It was $20 for a custom made 2 hour tape so I took the ad home with me and after probably just a week or two pondering wether or not this was a rip off I took the plunge, purchased a money order and requested Emerson, Lake & Palmer - Live on French TV 1970 along with "Brain Salad Days" and some other footage that I do not recall, 2 VHS tapes and 4 hours material in all.
A week or so passed and the package arrived along with a Full Catalog. I waited until my parents had gone to sleep and watched the videotape, at first I couldnt believe how bad the picture quality was but it was indeed watchable and then after a bit getting used to it became totally watchable, turns out ELP Live on French TV 1970 was not so bad compared to other "archival" footage out there but I was indeed a newbie.
A month or so later I meet Matt (Pewster Video) selling audio cassettes of The Grateful Dead and a few videotapes on 42nd street & 5th avenue and we work out an even trade, of course it snowballed from herein even back in the pre-internet daze there were ads in the back of Rolling Stone magazine and various Fanzines, like YES Magazine, Fanfare for the Common Fan, The Amazing Pudding and many others that fans were rolling out off the local copy machine and printing press, I would get these pamphlets at Its Only Rock and Roll and Revolver Records on 8th street in the village get in touch with a trader or two who would help me get in touch with other traders and if you had something that was not widely circulated you might be trading five to ten copies of one show for five to ten 2 hour video cassettes, you do the math. This was the case with the Anderson, Bruford, Wakeman & Howe Tour rehearsal video I had traded with someone.
Now taste interests were coming into play and it became quite easy to trade amongst like minded fans, a trader from North Carolina sent me a huge package of 12 Prog Rock videocassettes just so I could copy them so there was lots of trust involved as well. I asked an ELO trader to tag on whatever he liked as the videotape was 30 minutes shy of being a full 120 minutes which started my lifelong Marc Bolan obsession (after seeing T. Rexmas Christmas special 2), I handed out black and white flyers with the YES logo on them in record time at an Anderson, Bruford, Wakeman and Howe concert and got a few interested replies via 'Letter" in my mail
box, after chatting on the phone a YES fan drove over from Staten Island after running off a bunch of clips I had never seen including "The Making of LEAVE IT" featuring directors Kevin Godley & Lol Creme who were a new interest to me at the time.
Looking back this was a vibrant happy time discovering video clips that I would never have gotten to see on Television and in those pre-Youtube days it was that much greater of a reward to have tracked down some footage, trade or purchase it and in most cases wait for the package to arrive in the mail and of course the excitement when sitting down to view something you had never till that moment seen and that was now added to the collection, Imagine That.