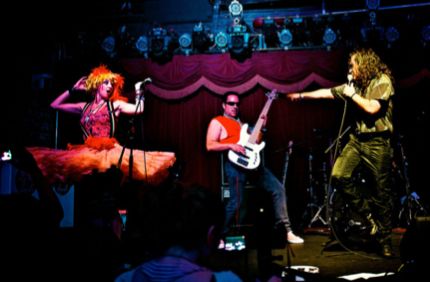 I arrived fourth at the Brooklyn Bowl and a close second to Diana who had pulled up just 30 seconds before me (Dave and J.C. precluded us) once we got inside it was not the usual procedure for soundcheck as the other band were finishing theirs but we got a quick mic check and ran through "Heaven is a place on earth" for house vocal levels and band monitor preferences (I requested more vocals but I always request more vocals) and then retired to the green room above stage for dinner and costume changes. Tonight we were filmed by Monika for our next Promo Video and the Brooklyn Bowl for a nominal fee provided us with a WAV (Waveform Audio file format) file so we can sync up some tasty close mic'ed audio with the pictures.
Confident and well rehearsed but also itching to do our best we hit the stage at precisely 8 p.m. for our 75 minute packed and paced set. I was sitting behind the kit listening to the full band mic'ed through the monitor wedge and as always I love to hear the kick drum thumping a bit in my chest, this "monitor mix" thingy helps the band as well because we can hear everything. J.C.s keyboard monitor was unplugged by accident but the audience P..A. heard him clearly.
Amplification Rules The World.
Premiered tonight was "Beat It", Do I really have to tell you who's song that is ?
"What You Talkin' Bout Willis ?"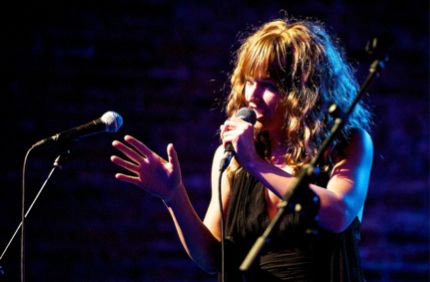 D To The Iana,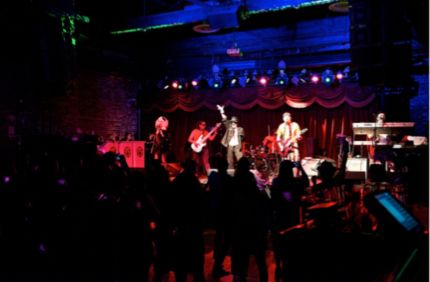 Madonna & Michael.
Purple Reign indeed. Thanks to the sympathetic lighting crew at the Brooklyn Bowl.
It was a joy to see original members of The Airwaves and founding members of White Wedding Nancy (Blue Jean/Billie Jean),Tawni (Darling Nikki) and Mike (Doc Brown) come support us and the show they helped create whom I almost thought didn't make it down, I nearly kissed Mike (and told him so). We retired to the green room and actually just chatted about things, not just old band stories (some of course) which was a delight and after touting Tawni for two years to Jamie she finally got to meet Tawni. Say That ten times fast.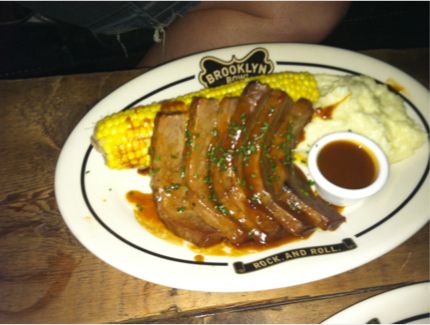 Jamie and myself had Dinner after the show sent up to the green room, Brooklyn Brisket with Mashed Potatoes & Corn on the Cob is what Jamie had along with a Chocolate Malted that she rated 5 stars. I was so busy loving my Fish (see below) that I didn't even ask for a taste.
I have had this before and had to have it again!!!
Cajun Catfish over Mashed Potatoes with Collared Greens and Bacon. Compact Placing but BIG Flavor.
FLICKR
This Is Show # 179