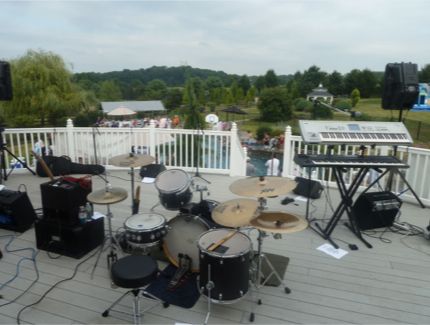 Tonight we were truly a Party band because the party joined us on our makeshift stage. Once again not too many pictures since this is a private event but this was indeed in Dave's words "one for the books". We drove over two hours to Malvern, Pennsylvania and set up our equipment on the sun deck at (for argument's sake we will call him) Grant's house and were asked to make ourselves at home as we all banked on a rainless day which is what we got.
First set went without a hitch after which we had a bite to eat and some Beer, Water & Soda (depending on who you ask) and Grant brought us up some Beer and Wine to the deck. Second set was going smoothly but we had to vamp with a few Diana songs since we did not want the crowd (who were at the Piñata and Frozen Yogurt truck) to miss the Michael Jackson segment. Michael arrived but during his performance Grant decided to give us some liquid fun and proceeded mid - song to each band member feeding us Ketel One Vodka from the magnum to our mouths which was hysterical, decadent and just plain fun (we are so professional), afterwards Michael Jackson exclaimed "Well, its made out of potatoes so its healthy" then proceeded to ask for more "special juices" from the podium of which of course Grant obliged, the band was starting to feel a bit wobbly.
Third set was the "All Request" set and we started showcasing with Madonna and Billy Idol which led into the request portion interspersed with regulars from our show, we were asked to extend our third set and the band played on. Someone requested Led Zeppelin so we made up our version of "Rock and Roll" that I caught audio of with my trusty camera and we also did a version of "L.A. Woman" giving Rob a chance to get his inner Jim Morrison out.
Unique to tonight's show is "Call Me, Maybe & "Roller" by April Wine.
Premiered tonight was Foreigner's "Juke Box Hero".
Dave's new 80s shorts and the extra 2X10 cabinet for outdoor shows boosting levels from a paltry 300 watts to a devastating 500 watts.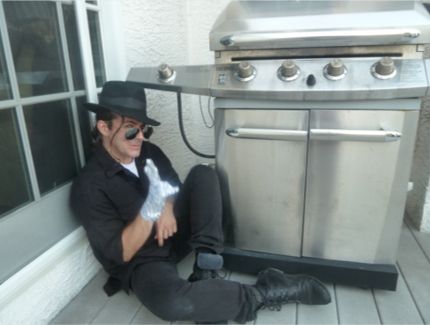 Another Pepsi accident waiting to happen *
Is it the Ketel One Vodka or did Spike just become a thousand times more attractive ?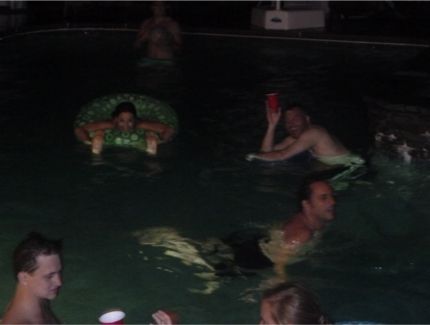 Half of the band cooled in the pool directly after our performance.
Grilled Chicken, White American Cheeseburger, Homeade Mac & Cheese (obscured by Burger) & Corn Avocado Salad.
A bunch of the ladies accompanied us on this.
Off The Cuff and flying by the seat of our pants and dresses.
* - I have to give Jamie credit for this caption as I could not think of anything at all except "Eat It"
This Is Show # 180