At the most elegant and impressive Russo's on the Bay I arrived via hired taxi and asking the valet where to take the Drums/I Am In The Band was personally escorted to the Load-In doors but the valet got his signals crossed and pointed me to the wrong reception room. Two narrow and dark stairwells Up with Drum Set & Cymbals later I was then directed from Banquet room 1, About 300 feet Across the Kitchen/into banquet Room 2.
Dave and myself made the sojourn through the fully staffed and running kitchen with the Keyboards, Drum Kit and P.A. in hand which was kind of a surreal meal, Talk about piquing ones appetite!!! I have never seen that much Tomato Sauce, sliced Bell Peppers or Meatballs in my life at one time mind you.
Of course I Wanted to take photos but "How Unprofessional" would that be.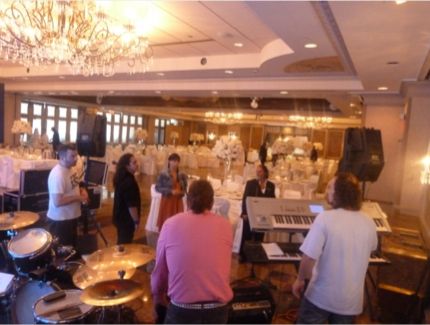 After the wedding ceremony was over the party moved into cocktail hour as Russo's staff opened up the room divider wall allowing us and the D.J. in to set up the equipment, all considered everything went very smoothly with three teams working, Team White Wedding even helped the staff move chairs so we could get to our set up a little quicker as there was only a rigidly timed sixty minute changeover window. We played the 45 minute set requested and the rest of the nights music was provided by Funktion 67 DJs allowing us some down time to have some drinks, play the Kurzweil digital grand piano and have some band bonding over mixed drinks and Rice Krispies Treats since Load-Out was after the weddings finale.
Premiered tonight was Bon Jovi's "Living On A Prayer"
The WORD of the night is "Menagerie"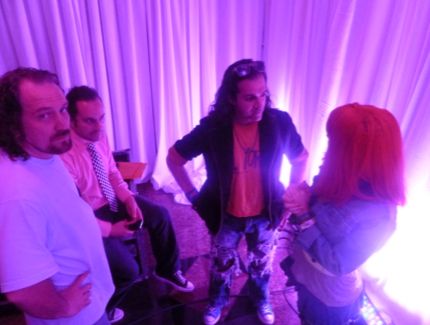 "Are You F*@King Kidding Me"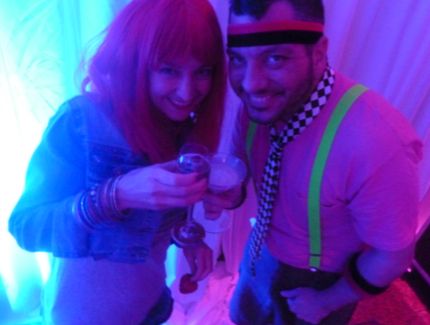 Riunite On Ice,..... That's Nice. *
".....and a toy train set...and"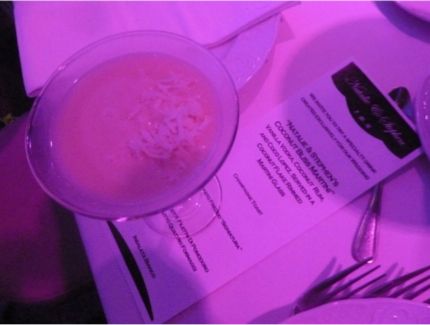 The wedding specialty drink was a "Coconut Bliss Martini" so I just had to have one. This is a concoction of Vanilla Vodka, Coconut Rum and Coco Lopez served in a Coconut Flake rimmed Martini glass (in this case the Flaked Coconut was garnished). Delicious and Cocoa Nutty.
Just as we were going on we were served some Al Dente Pasta that was shaped like round Agnolotti (but didn't appear to have any filling) and Delicious Risotto along with a Salad that I had with Romano Cheese (comes with an Orange Slice).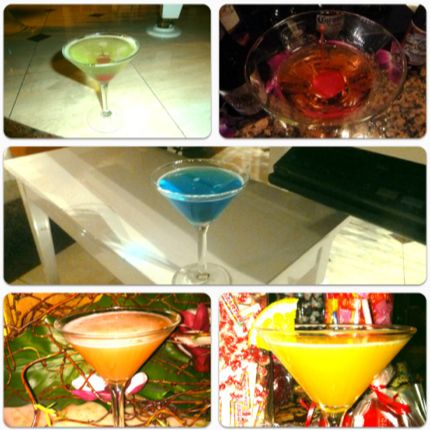 This is going to be the longest paragraph because I am including the ingredients for all 5 Martinis seen above, I had the center Martini first (The Blue One) followed from left to right by the next four. Number One (The Blue One) is an "Italian Ice" - Raspberry Vodka, Blue Curacao, Sour Mix & a splash of 7-Up. Number Two is a "Green Apple" - Raspberry Vodka, Triple Sec, Green Apple Schnapps & a splash of Lime Juice. Three is a "Cherry Blossom" concocting Raspberry Vodka, Champagne with a splash of Grenadine & Cranberry Juice. Glass number four is the "Summer Air" that is Gin, Triple Sec, Pineapple Juice & Cranberry Juice garnished with a Pineapple. we conclude with number five which is a "Fruit Fusion" pairing Bacardi Limon, Rum, Amaretto, Sour Mix & Orange Juice. Every One Most Delicious and "shaken not stirred" by Stephanie.
TO BE READ IN A THICK BRITISH ACCENT.
At the behest of the groom did we learn "Living On A Prayer" the Bon Jovi song in the eleventh hour as separate/individual parts to perform together on the fly at the reception, I hastened to collect a recording of the premiere performance but due to the reflective Granite/Marble floor all you can hear is the Snare Drum and of course Dave with his triple speaker stackable,........ pish posh showoff that he is.
* - Riunite On Ice for those who are thinking WTF!!!.
Definition of Pish Posh
Funktion 67 DJs site
This Is Show # 181