We were hired to celebrate Lenny's 30th Birthday party and celebrate we did. Flannerys bar on 14th street had us move the band upstairs from the party room downstairs and we played 3 great sets and everyone involved had a blast, towards the end of the night Flannery's bartender,barback told us it was the best party he had seen thrown there in ten years and with Rob and Diana including Lenny in the proceedings it really was an 80s Birthday Party bar none.
Unique to tonight's performance was the requested "Bad Romance" by Lady GaGa.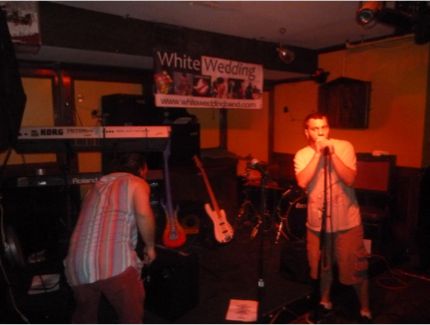 As can be seen stage conditions were cramped, I have been in worse situations.
Diana enjoying a pre-show Tuna Melt.
One of the best things about living in New York is I can walk down the street dressed like THIS and no one bats an eyelid.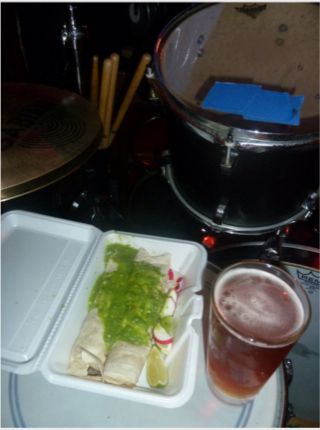 After our first set I made a beeline for the Taco Truck up on 8th avenue and while only having a fifteen minute window they prepared my 2 Araby Tacos in record time. I added some Green Sauce and my mouth was burning as the second set begun.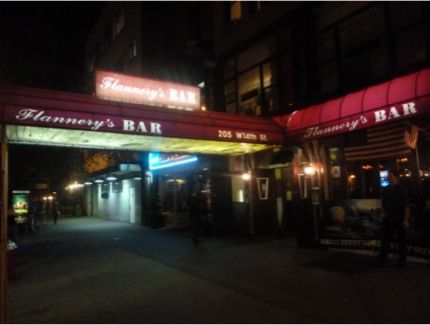 Flannery's Pub facade.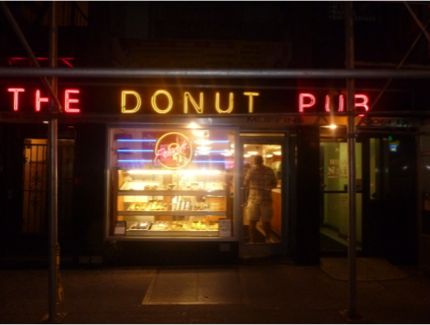 The Donut Pub stood next door and at the end of the evening I purchased twelve dollars worth of Donuts and Cake. There was a Vanilla Iced Blueberry Muffin cake in the window that I just had to have.
GaGa audio and a nice view of the in-house mixing console.
This Is Show # 188