Our first show with Collette on vocals and she rose to the 80s occasion LIKE TOTALLY. Singing, talking to the crowd and performing with a finely honed finesse that comes with practice, perseverance and professionalism (The 3 P's) it was fun for me to see the "stage" Collette as the musician's in the band only play Loud, Soft, Slow or Fast at rehearsal whereas you don't get to see a front person really performing without a stage and a crowd.
Singing? Yes.
Performing? No.
Not even Marc Bolan or Bowie would,..... o.k. those are very special cases.
it builds a better beast.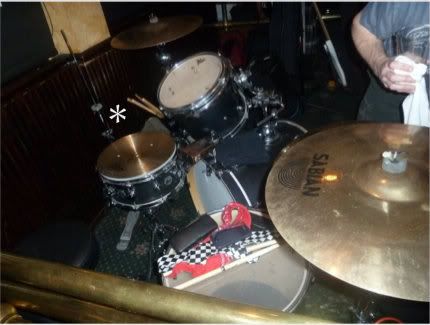 With trepidation did I return to Pete's Saloon as they feature a stage perfect for a duo but NOT a Full band (6 of us there are). My previous experience onstage was so cramped that I broke a glass trying to get behind my own drum kit, Tonight went much much better after deciding that removing my Hi-Hat Cymbals from their spindle and stepping over the Hi-Hat and Cymbal stand was preferable to climbing behind my floor tom just to get the F**K in & out from behind the drum kit!!!
We received lots of compliments from the crowd which is always very nice and there were a few Hotties* dancing on the chairs protesting shows end.
After packing our gear up Collette handed me a mysterious weighty backpack that I thought might be J.C.'s but J.C. had left by the time I seeked out his vehicle so I checked the backpack's content's to find various camera's, cable's, boxes' and camera equipment,... not any of our's after which I returned it to the bar.
Then Collette double checked for her left behind Apple Laptop power cord which she found but also returned with a wayward guitar strap that belonged to the club we surmised and returned it to the bar.
Rob was waiting for the Printer/Scanner to come out the back on her return so we decided that Collette is the official innocent "Clepto" of the band, we will be visiting Guitar Center very soon en masse and in disguise.
"Who would cross the bridge of death must answer me these questions three, ere' the other side be seen"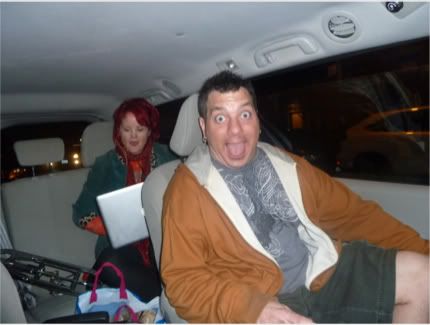 Rob took a sharp turn on the highway and I unwittingly caught this scene in my camera's viewfinder.
This Is Show # 165