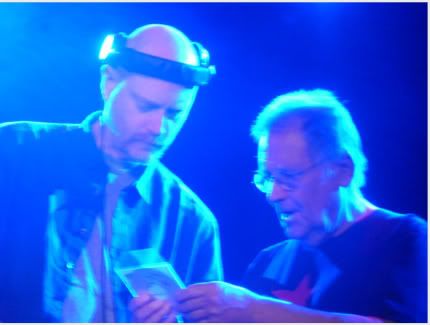 Nervous or Starstruck I felt not when I approached Irmin Schmidt for an autograph before the presentation yet I shook his hand twice and then once more after the proceedings proving a bit redundant and YES obviously a little Nervous.
We (the republic for which we CAN) convened en masse to Le Poisson Rouge on Bleecker Street for playback of select cuts from the forthcoming "CAN - The Lost Tapes" 3 CD set being released in two months time.
After listening to the music that we were played....
Me : Mister Schmidt that was just as good as anything in the CAN catalog.
Irmin Schmidt (CAN) : Excuse Me, What ???
Me : That was just as good as anything on Tago Mago or Ege Bamyasi.
Irmin Schmidt (CAN) : I wouldn't have considered putting it out otherwise.
Before the show Jamie and myself approached Irmin for an autograph or two at stage left and found him to be the most splendid gentleman as was Jono who I spoke to about the possibility of future releases of any recordings, it seems though that the Lost Tapes are the creme de la creme of what's available and from what I heard I most truly agree.
I shook Irmin's hand three times tonight.
I dont recall the moderator's name but he was certainly a fan.
This was the first new piece I heard at the presentation and I was gleefully blown away, spaghetti western meets punk motorik via malbec on the tab (in the ocean).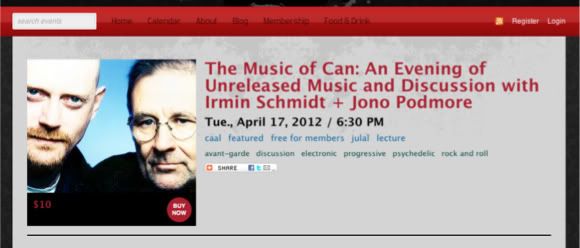 PANIC ATTACK!!!! - Incidentally I left the house and forgot to put in today's entry ON THE DAY!!! (otherwise the header date doesn't match) but was able to start this entry via my iPhone onboard a Manhattan bound subway train, Technology Marches On (as does my phone bill).
Just in case we forgot why we were there the internet will make us smarter.
Excerpt (2 of 5) stage discussion on Stockhausen & ring modulators.
The Delicious yet pricey Empanada's ($12) were flaky toasty and yummy meaty yet not too oily and flanked with Chimmichurri sauce. Served two to a plate and halved making four.
MUTE Records