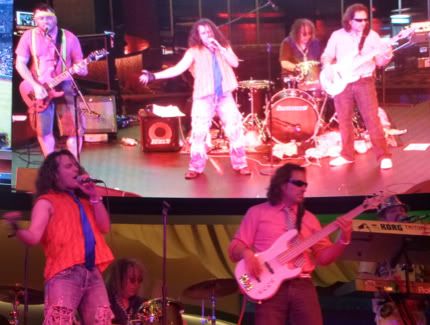 Probably the coolest stage we have played on so far Bar 360 at Aqueduct in the Resorts World Casino is definitely an experience and great exposure for a band like ours as the people traffic is pretty constant for those who watch a number or two, Quite a few onlookers really enjoyed the Michael Jackson segment especially well. Then there were those who stayed the entire 3 sets which we very much appreciate. It was a blast to play and have a return engagement and we hope to be back real soon.
Diana Ciccone.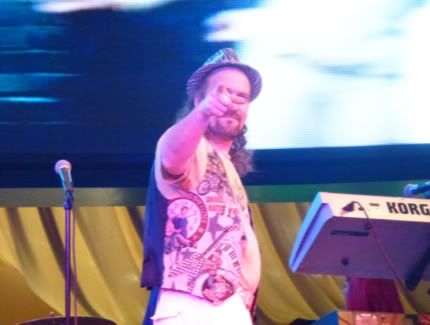 J.C. giving the Malocchio to evildoers everywhere.
I was not able to hear Eric at tonights show so missed out on all the guitar solos I enjoy so much.
Jamie snuck a few rare overhead shots before security asked her to desist.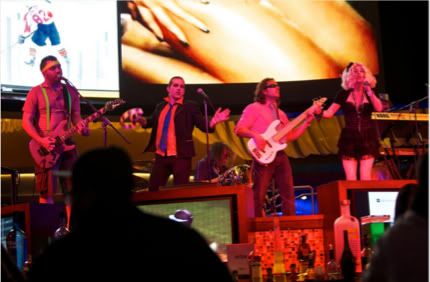 the view from the bar.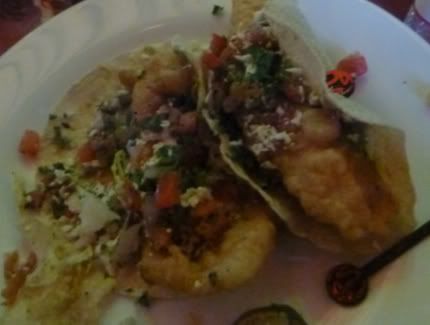 I gave myself extra time to get to the casino but still found no time to get Jamie and myself some dinner, after the first set I passed by to say hello to Steve and Richard and Steve offered me one of his Fish Taco's, Now normally I say "thanks very much but no thanks" but I have been wanting to try the recently trendish Fish Taco for some time so I accepted. Served on a soft Corn Tortilla and quite tasty save for the spicy hot seasoning that I had in the last bite and right before returning to stage. Thanks for the Taco Steve.
"Lets Go Crazy" as seen from beneath the floor tom.
The wheels on the bus they go round and round.
This Is Show # 166
FLICKR