The band played really well tonight and were all very pleased with our performances as a unit and as individuals. Collette rose to the occasion once again and played to the crowd with showmanship and Eric got to meet one of his musical heroes Prince Rogers Nelson who is quite the showman himself (see photo above).
After the show Collette, Rob, Eric and myself had some drinks in the dressing room and discussed the minute details of our individual ensemble contributions, RickRolling, other bands, the universe at large, future songs to cover and Meg White.
... after which Collette found sixty dollars which may or may not have been hers.
Rob ferried us all home in the zip car but for the commuters heading away from Brooklyn it was all Burrito's and brake lights as we passed a large convoy of sedentary police cars with roof lights ablaze in the opposite lane.
For awakening him from his slumber I apologize to Sean for accidentally texting Blog ideas to his phone in the wee hours (and what will he make of it all tomorrow ?).
Also of note David Lee Roth is a bit effeminate in real life so I hear.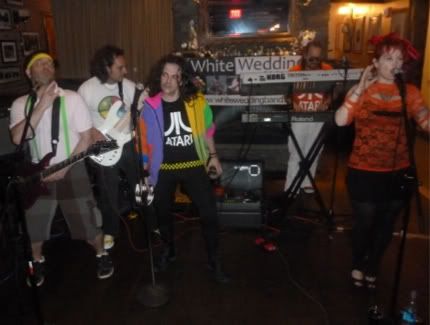 Eric giving the Molocchio to Dave for an unknown reason, this is becoming habitual with us.
Is White Wedding becoming Black Wedding ?
Collette fronting the band during the Journey classic "Don't Stop Believing".
There was no one available to take photos at this show so I stepped out from behind the drums during my brief "intro" pause to snap this pic and fortunately got back in time without a hitch.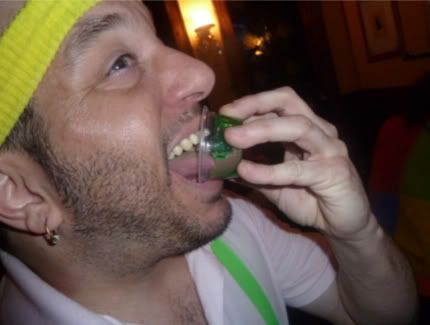 Living in the Limelight.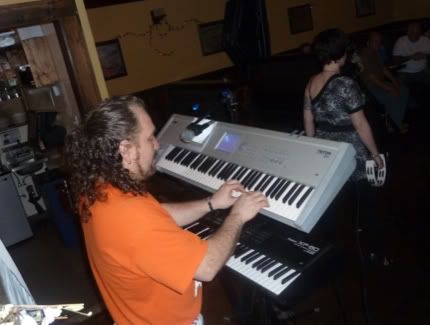 J.C. tickles the ivories and was a good sport dodging my flying drumsticks, he did promise to "throw them back the next time" however.
its o.k. I have his red bag for ransom.
The Heritage is a fully stocked bar as well as the home of the best Guinness this side of Dublin. One of our most favorite places to play and a home base of sorts for us.
This Is Show # 167