I poured myself silly trying to find the words to describe the photo above and then I realized that poured was the proper spelling.
Zeppelinhall was packed for the St. Patricks Day festivities so we tagged Van Halen's "Jump" and Poison's "Talk Dirty to Me" to the beginning of our first set to jump start an packed and up audience already, clever aren't we. This was one of our better crowds so the energy was there to feed off of and the band played just beyond our regular performance level on excitement alone. There was a fellow who took up the small space on my drum perch for the end of the first set and thoroughly enjoying our performance only to return for the second set. Excited during the U2 portion of our show he took a dive from off the stage after which so did Bono much to the crowd and bands delight.
Rob mid-flight. Dave was laughing it up with J.C. over the previous stage dive and had his back against this, I screamed "DAVE!!!DAVE!!!DAVE!!!' to get his attention to turn around and see this spectacle.
The $8.95 Corned Beef & Cabbage Dinner, Most Tasty but not enough Cabbage and Heavy on the Potatoes. I'm not complaining.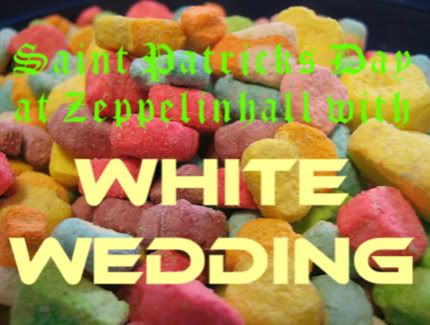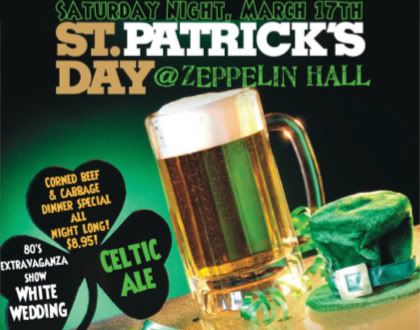 This Is Show # 160