Be they regulars at the bar or fans of ours it was Great to hear people in the audience yelling "WHITE FU**ING WEDDING !!!" so we had return visitors from December 17th whence the "WW" Battle Cry was first coined,..... Nice.
O' Flanagans always offers up a different crowd for us and we had our gaggle of new fans tonight that all had a Blast ourselves included. Right as we went on Rob in his Bono guise retorted to a heckler "Pogue Mahone" * which had me crying with laughter from the drum stool. I played so much better than last week thanks to the antibiotics and the antibiotics never heard such music or for that matter the Cure which also went over very nicely tonight veritably changing the architecture of the dance floor. Eric had bar patron Caesar who looked a lot like Ray Collins in finger watching awe at his Purple Rain guitar solo which also held my attention enough that I thought I missed my part while listening to Eric, So much so that I asked Dave "did I miss my cue ?" to which I thankfully got the reply "no". Also of interest after our first set a young man approached me and asked if I was using Pro-Mark drum sticks to which I affirmed positive, he claimed to be a relative of the original owners which was kinda cool and just to notice the brand name stripe on the stick is enough, what do you think I do when I'm watching drummers ? I'm looking for the stripe!!!.
* - a variant of the Irish phrase póg mo thóin, meaning "kiss my arse"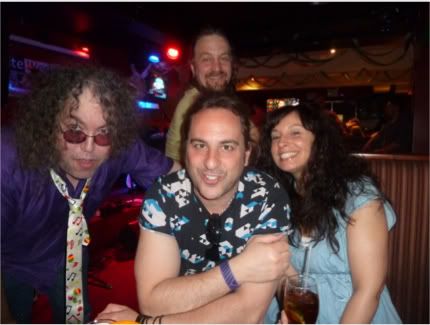 Tonight was Nancy's last public show with the band but we are trying not to make a big deal of it. I have been wistfully nostalgic as of late with the original 80s band of yore just because they aren't there anymore but everyone is going for big things, Nancy is looking to get out of the city and I applaud that wholeheartedly brave girl. Above is a photo of 1/2 of The Airwaves or White Wedding MARK l (L to R) Spike, Dave, Nancy. OOPS J.C. heard his name, he turned around, gotta love that guy.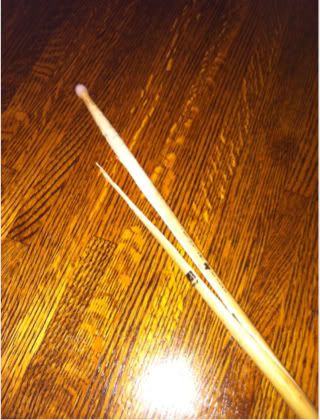 Broke a stick at the gig, Well, It Happens !!! (iPhone pic)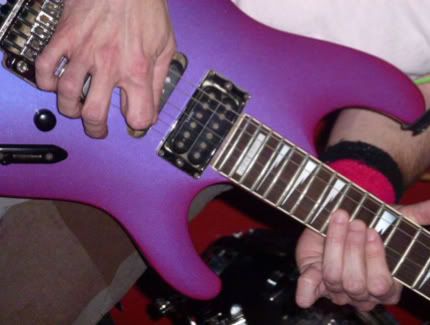 Ibanez S series, Mahogany Body, Purple Finish, 20 year vintage.
"and you were there, and so were you, and you and,... and Toto too"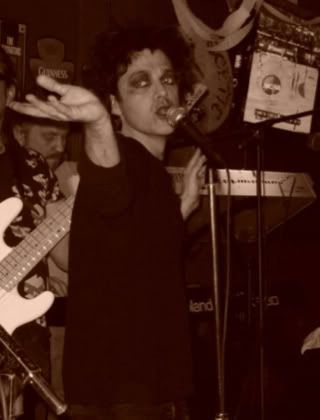 Not Dr. Smith nor Blacksmith, It's Robert Smith.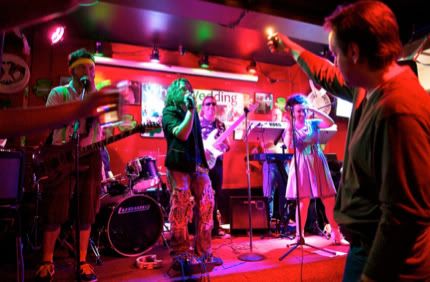 White Wedding has achieved lighter aloft status.
Nancy belting it out.
A Real Banner Pic.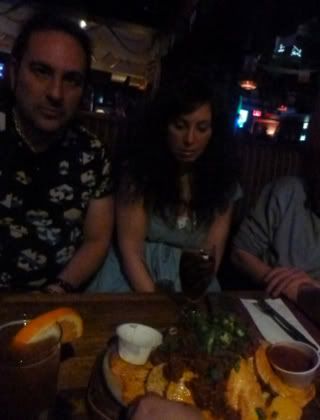 Dave - "I would never put anything in Nancy's drink and she would never suspect such behavior from me as well"
Nancy - (thinking) I feel kinda funny like somebody put something in my drink
Jamie and myself took car service in to allow for "munching" time but as happens O' Flanagans asked us to start our performance at 10:30 as opposed to 11 P.m. (Well,... There goes the Soup to Nuts, or even just the Soup). I had ten minutes to scarf down some Nachos Supreme (pictured above) of which I did and then lived on Snickers (Peanut Butter), Munchos and Blue Moon the rest of the evening.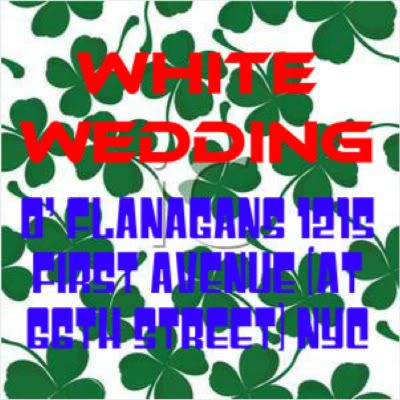 This Is Show # 159
FLICKR