The 1st and 10 Sports bar of New Milford is a nice room decked out in TV monitors like any sports bar should and reminded me a bit of JCs Restaurant except with more and bigger monitors. We had a crowd of dancers and a couple of birthday parties to announce by chance as well. Diana and Eric continue to "settle in" to the band as happens with experience. Tonight's newest prop was a "Rock Star" guitar Diana brought for the Joan Jett segment. premiered was "You Might Think" by the Cars and we were also treated to a unique rendition of "Walking On Sunshine" as sung by Rob.
Probably my worst performance with the band ever not that anyone in the audience could or would notice but I did completely flub the double sticking 16th note pattern at one point in "Safety Dance" which took a second to recover as I cursed out loud. There is zero tolerance to fluctuate the beat in any dance band, after all "The Beat is the Feet" and they will notice. Tempo on the other hand is always variable but tonight each band member asked me to SLOW DOWN at least once and sometimes thrice, lesser men would feel they were being picked on. Couple this with the fact that I was feeling under the weather and did not want to play this show at all for love or money and you can see I had a nice time. Well,.... there was Peanut Butter Cake !!!! who needs love or money.
Diana from my vantage point.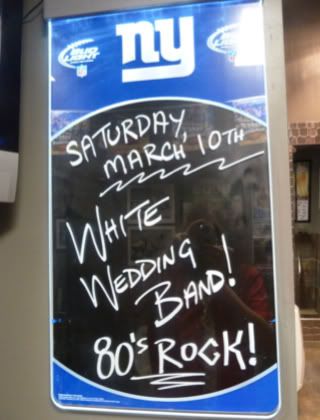 aah, to see our name up in lights, this was the ad in the mens restroom.
I see at least one person on their mobile device, can you spot anyone else ?
This Is Show # 158