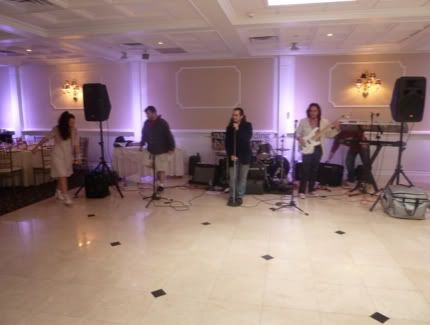 It all began with the Tarantula.
He of effeminate qualities but doing a dickens of a job performing maitre d'/wedding coordinator duties at the lovely (Shining-esque) Vineyard Caterers of Aquebogue, New York.
We arrived thusly on a slightly cooler day of the week at a chillier sixty or so degrees in temperature amongst cloudy skies to set up our gear at this wedding reception and were asked to take our sign down by Tarantula (fair enough we were independently hired).
Shortly after Dave asked if there was a place to store our keyboard, guitar cases and costume bag to which Tarantula replied "right this way booby" with accompanying "buddy" arm on back.
Later during appetizer's Rob was coordinating wedding party intro's/band start time whilst receiving accompanying "buddy" elbow peccadilloes from the Tarantula as well.
He also liked the band and told us so, well we did do a smashing job and I am pleased Tarantula liked us as well, I wound up liking him too.
J.C. is responsible for the "T" moniker, you ask him.
Dave and Rob remain disturbed by the incidents, Fab fellow was he though.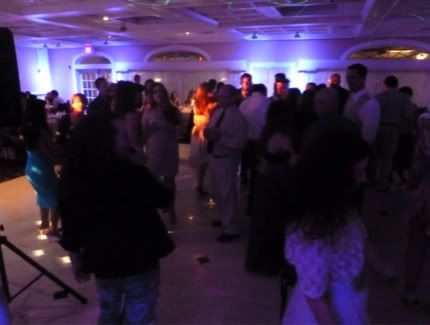 There was a Mariachi band serenading the guests during cocktail hour and into the dining hall where we shared performance duties with DJ Lane of All Around Sound DJ's.
The band played exceptionally well providing an 11 Song opening set of songs including Eric's (unplanned and impressive) vocal debut of "Your Love" by the Outfield and a last minute request of "Billie Jean", an 8 Song dinner set of quieter music (which I love to play) and a 11 Song Dancey Dance Party set that had the room grooving and up on the dance floor for our entire performance. A Great reception and fun crowd for White Wedding.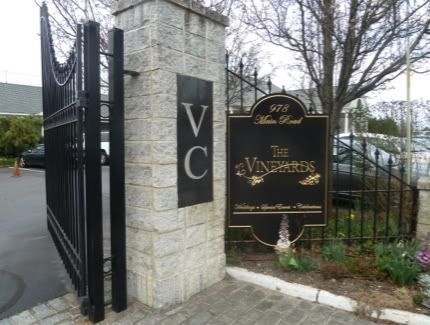 Over the bridge and through the woods to grandmother's house we go.
I was very much looking forward to the appetizer friendly cocktail hour and to compliment my glass of Cabernet Sauvingmignon I procured an accompanying plate of (from 9 o' clock) Eggplant Rollatini, Swiss & Cheddar Cheese, Chicken Francaise, Prosciutto & Gourmet Seeded Cracker's (probably of the water kind) which was followed by an irresistible plate of Fried Calamari (I Blame J.C.) and then for Dinner appetizers Fresh Mozzarella, Tomato, Basil Antipasto and a Delicious Salad with a Sesame (Peanutty tasting) Vinaigrette followed by Stuffed Chicken with Squash and Roasted Potatoes in a Lemon Sauce (She DID say Mashed, She DID!!!) with Red Velvet Cake A La Mode for Dessert.
But more about the SALAD.
Dave (to Spike) - "What's the crunchy stuff in the salad ?"
Spike (to Dave) - "Croutons, Wait!,... I think its Captain Crunch."
J.C. (to Spike & Dave) - "Are You F**king kidding me, I said it wuz Walnuts"
and it was.
NYC Still Life.
This Is Show # 162