Another private party, Another AWESOME crowd.
This was a birthday toga party which only enhanced the entire experience once the guests really got partying.
I was the first to arrive which is well,..... a first and it was privately comedic to be greeted at the door by a couple of fully garbed romans (Biggus Dickus* anyone). A few numbers into our set and people were literally dancing on the countertop which was also surreal considering that said countertop was in someones kitchen. A Really tight performance from the band and Stellar performances from Spicolli and Billie Jean but the lighting was dimmed for atmosphere so the costumes were missed or perhaps enhanced due to a trick of the light. We never know what to expect out of these parties but we must be doing something right as the crowd was completely on our side and the band was asked to stay and play not a few encores but another short set.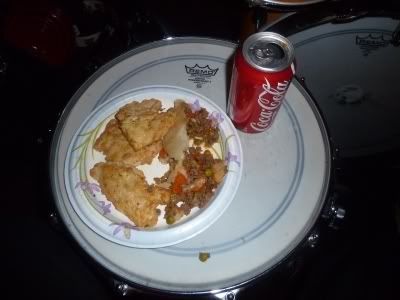 We,The Entertainment were offered to partake in Food and Drinks so I made it over to the Buffet room only to encounter possibly my two favorite dishes, Chicken Francaise and Shepard's Pie in major abundance and almost right next to each other (aluminumnum trays of Baked Ziti was all that kept them apart). Incidentally DW Snare Drums also make decent snack tables (see above).
Since we are professional I make sure never to start snapping photographs in a fan/clients home but I could not resist taking one of the Cheese Platter (Swiss and Mild Cheddar) of which Diamond Dave and myself were enthralled with and happily partook of.
Anomaly's Abound - prior to the gig while waiting for my train at the LIRR Jamaica station I grabbed a ninety-nine cent bag of Munchos and as I was snacking came across a disc shaped chip, after evaluating that this was not an intergalactic vessel or wayward poker chip I ate the sucker which was a bit more brittle than a Muncho and also overcooked to a degree which was only discernible by taste, I kind of liked it but to the brain the shape was all wrong (MUNCHO+TACTILE=REALMUNCHO) To my delight there was a second disc in the bag which I took a few photographs of and ate as well.
The People at Frito-Lays shall be hearing from me, Watch This Spot.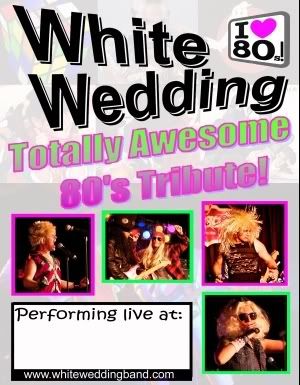 Doc Brown created a new White Wedding poster for upcoming gigs.
* - Monty Python - Life Of Brian (film)