Meeting your favorite drummer is enough but to be fortunate enough to sit within an intimate crowd to be spoken upon by Bill Bruford seemed an extremely promising venture. Only a handful of musicians are as interesting a speaker as they are a player (Zappa, Waits, Townshend, Fripp) and amongst drummers the odds dwindle even further (Peart, Moon) so I knew I was in for a treat and quite a few laughs, add to this that I adore Mr. Bruford's autobiography and there was no way I was going to miss this. I was greatly relieved after securing a spot in Guitar Center's Lighting/P.A. room downstairs after arriving two hours early and proceeded to have nice conversation with my like minded fellow Bruford fans.
Bill arrived promptly at seven p.m. and without the aid of his book and with a minimal amount of notes he spoke of The Chapman Stick, Bob Fripp, Bill's Own Book, Timekeeping (and werent all four King Crimson members in the 1980's incarnation really timekeepers ?), the Music Business and the Music Industry, Five per cent for nothing, The Music Business of 1968, Mitch Mitchell, Elvin Jones, Dire Straits, Phil Collins, Brand X, Peter Gabriel, Joe Morello, Steve Gadd, Jeff Berlin, Allan Holdsworth, Peter Banks, Jon Anderson, Jamie Muir, Danish Television Directors, Having dinner with Tony, the difference between Conversation (Jazz) and Recitation (Rock), Where does improvisation begin ?, Individual laptop musicians, Digital Algorithm, Mastelotto and dynamics, and Drumming too. There was also an in-depth Q & A afterwards but I went blank in the question department (Stupid Git I Iz)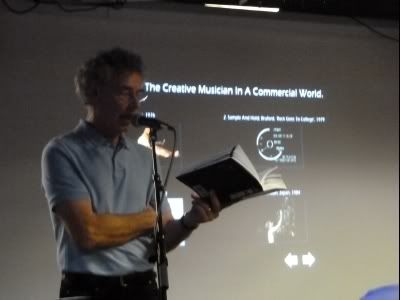 "I wanted to be a jazz drummer, I wanted to play Close To The Edge Different Every Night"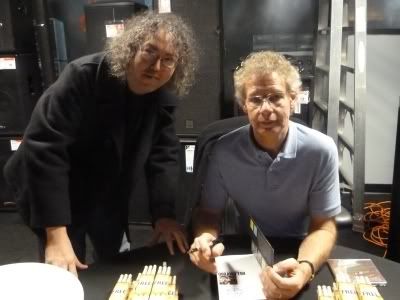 I was going to ask Bill if he recalled what brand of drum is in the photo on his book cover but there was a very young drummer in attendance whose mom made him a "TUBS" t-shirt (as seen in the Beat Club Yes videos) who was getting his autograph just a few people ahead of me so I asked Bill "As per our young fan here what are Tubs ?" to which Bill replied "Tubs are what people call drums or at least used to" with egg on my face I positioned for this pic saying "Well then may I have a photo with the man who plays the Tubs so well"
My Favorite Book of 2009 gets its finishing brandish. The Autograph !!!
One of My Favorite albums of 1983 gets its finishing brandish. The Autograph !!! Unfortunately Personalized to the wrong person. Here's What Happened.
I got Jamie a record signed "To Jamie" then my book signed "To Spike" which are both accurate collection targets and then for some unknown reason Bill reverted back to personalizing "To Jamie" on my "To Spike" Moraz-Bruford LP, was he thinking Jamie Muir ? friggin' drummers.