What made this gig interesting was the addition of Sean the sound engineer to fatten and balance the audio distribution over the dance floor at the Napper Tandy and while I could never listen first hand I heard that we sounded just that much better, I for one always love a mic'ed Bass Drum and the low frequency thud that fills the room, likewise the crack and richness coming off of the snare drum when sent through speakers. On the downside I had a keyboard heavy monitor mix for a bit but these things can be worked out after the trial run which is what this was.
The band played great to an intimate crowd and DJ Pacman Pookie declared us his "Favorite Band at the moment"
Song premiered at this gig "Old Time Rock and Roll"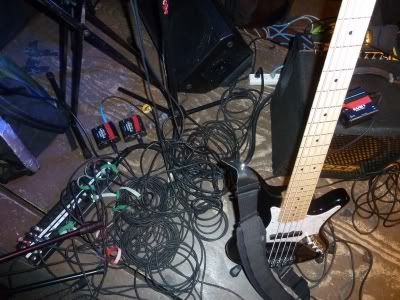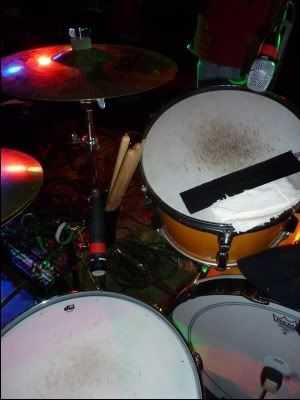 Even though I have had run-ins before it was at this gig that I realized how physically demanding it was to play most of these songs, I know that we are an High Energy Eighties Dance Band but a drummer with Flu-like symptoms does not bode well with
High Energy Eighties Dance Band Music. I got through three sets but barely and from my bandmates reactions I think they noticed. Most Importantly the audience didnt realize anything was amiss and I even got compliments on my drumming from two patrons. I know now that I am capable of playing with my eyes closed and I do mean Literally but I just wish these germs would keep away on show-nights.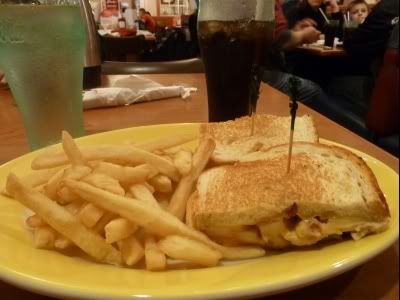 A Few hours before the gig Spicoli and myself did our Friendly's sojourn and I ordered a Cheddar Jack Chicken Supermelt Sandwich (Savory Tender Freshly Grilled Chicken Smothered in melted Monterey Jack and Cheddar Cheeses Crisp Hickory Smoked Bacon with Dijon Mustard on Grilled (its toast) Sourdough Bread) which sounds great on paper but was kind of bland in flavor and presentation, add to that now that I think of it I think they gypped me out of my Crisp Hickory Smoked Bacon !!!