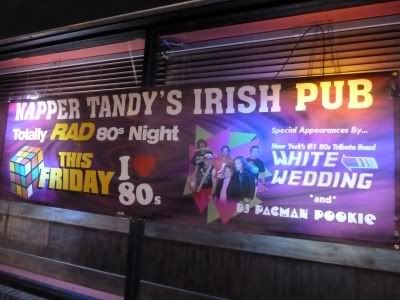 We had a Great time along with the audience which is what I always say (wish/eek) but is in the truly Ultimate Sense Very True and Truest Amongst The Truly True In This True Tribe..
Our sophomore show at Napper Tandy's found us a regular monthly attraction replete with canvas banner and advertisement's up in the Loo. Fine by Me, this is called beer room success in my book and theres very little that I can say negatively about success whichever way you slice it. Top that off with an Energetic, Dancing and Appreciative crowd and I must digress. Actually I am Stuck with all this running on of sentences writer's block (JERK) and Effing Language. BRB
Cyclone Ranger.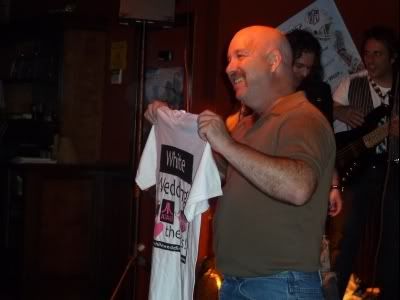 Our T-Shirt winner of the night. Joey answered our Rick Springfield question before we even asked it, and I mean Really. Well, He said "General Hospital"
Congratulations Joey.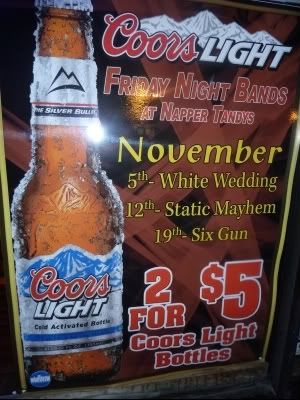 White Wedding, Now amongst the corporate Giants.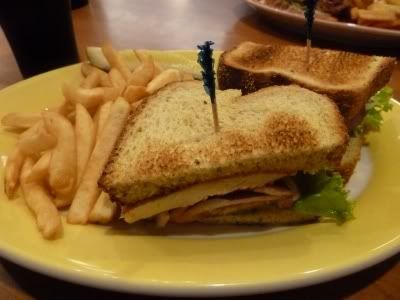 Spiccoli and myself stopped off at Friendly's gig-prior in the strip mall for a few Friend-z Reeses Peanut Butter Cup Sundaes. For Dinner I ordered an Chipotle Firecracker Chicken Sandwich on Jalapeno Cornbread (sounds so much better than what I tasted that was still awesome mind you) which consisted of Chipotle Chicken, Monterey Jack Cheese, Lettuce,Tomatoes and Red Onions in a Honey Chipotle Sauce (DELICIOUS)