From the halls of Montezuma to the shores of Tivoli.
This was one of those gigs when you know that you're not in Kansas anymore. From what I could surmise Tivoli is a quaint little berg which is mostly a college town and while the allure of Antiquing was in the air there was also, whilst driving, long patches of foreboding dark highway shadowed by gloomy overhanging trees and dark foliage and by jove I even saw a spritely deer at the side of the road. En Route Jazelyn avoided the secret trap door at Joey's Deli when we took a detour for some gasoline (and to ask if we could use their phone) and Our Road Manager Claudia got us in and out of town in one piece quaint or otherwise.
The Black Swan Bar is a charming establishment who took care of us (Drinks on the house) and appear to be one of the only places in town (if not the only one) who sponsor Live Music. By our second set the crowd became terrifically lively which fueled the flames of the bands prowess on their instruments and elevated us to another level. Songs debuted by this lineup at the gig were "Pig in a Poke" "Low Rider" and Doctor Steve regaled us with his vocals on "Big Boss Man" and "Swinging Doors".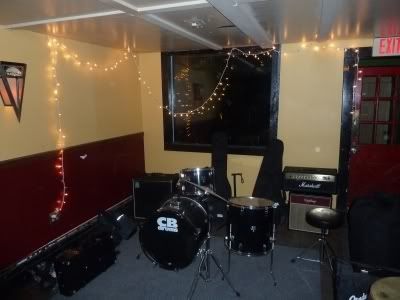 CB Drums make a passable product, the Cymbals are usable and the Rack Tom sounded O.K. The Floor Tom could use a better head and the Bass Drum can certainly use some muffling (as opposed to zero) in this particular drumkit's case.
Chimichanga y Pollo care of the Santa Fe Restaurant down the block on the other side of town.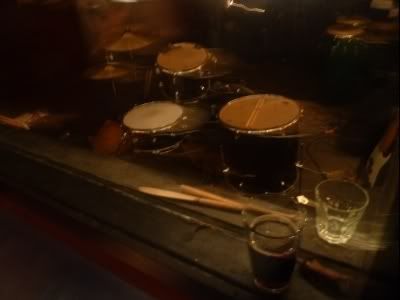 The stage as shot from the backyard. Glass of Porter anterior of the glass, Broken Drumsticks posterior of the glass. Incidentally I havent broken a pair of Drumsticks in years and upon being asked on this very eve and answering as such I proceeded to Break A Drumstick!!! albeit an old one.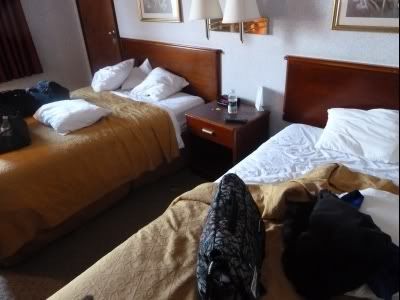 Quality lodgings at the Quality Inn, We did boy/girl rooms so I spent my night with Joe, Scott, Stephen and Matt.
Soap,Conditioner,Lotion and Shower Caps by Choice Hotels and after a sweaty gig, Sicilian Mummifications, many Newcastle Brown Ales and my incessant snoring Boy did we need it !!!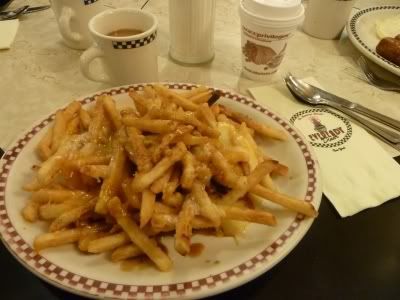 DISCO FRIES for Breakfast at the Eveready diner.