Whilst Abusing Sleep Deprivation Artistically as a tool of inspiration and just plain The Freakin' Reality Of My Situation!!! (3 hours sleep folks) I commuted down to the studio for an early morning overdub session (slated for 9:30-10 a.m.) and we (Tom & I) worked quickly and efficiently speaking the same language of "EngineerEase" that Thomas and myself were schooled in agreeing marvelously on colour choices in the percussion department for the tracks we felt were in need of them,..... We worked well together with the minutiae and knocked off the overdubs (one or two takes) vocals notwithstanding (fourth take) into submission and satisfied in under two hours.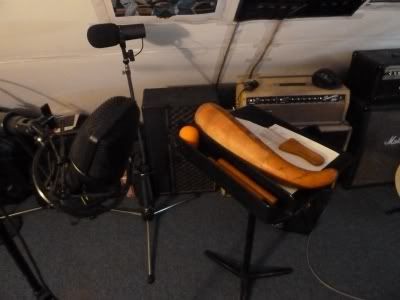 See the Guiro, She's My Hero.
I overdubbed Guiro, Claves, Tambourine and Shaker onto various tracks and Thomas even got a vocal performance out of me (final chorus of "Empty Walls") which is easier said then done. WELL,...... by reminding me of Peter Criss' vocal prowess (like a friggin' cat) on the KISS debut LP track "Nothing to Lose" whilst Joe likens it to a Paul (starchild) vocal we still got some more BROOKLYN accent into the recording. My coffee was decent and the music was soothing, the man in the deli was very polite as well albeit he was on the telefono at the time.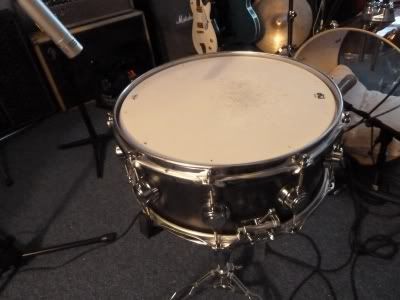 My minds ear heard a powerful, cracking snare drum a la Hal Blaine pushing the solo of "Another Brooklyn" along so I brought down the new DW Snare Drum for its recording debut.