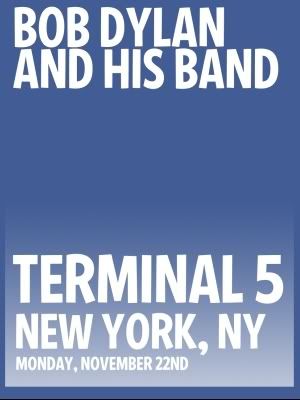 What Is Minimalism ?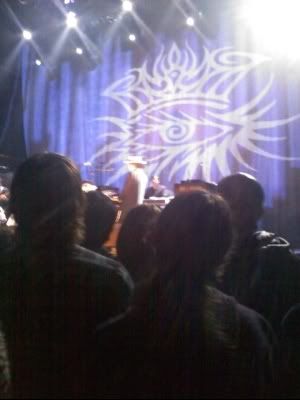 The One of Two (the other is blurry) photos that I attempted with my cellphone under our Camera Prohibition at the Terminal Tonight.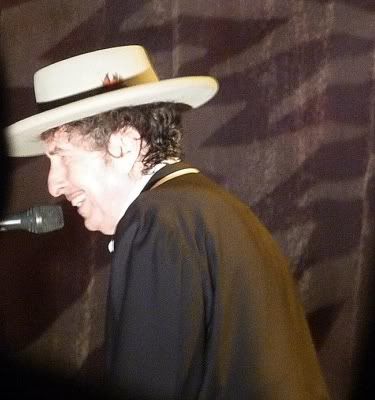 The One Great shot Jamie got with her camera. Nice One.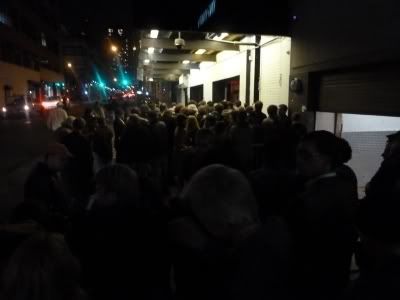 WE Were penned in like cattle and treated as such!!! No Fine Wine, Dry Sherry ,Mulled Cider or even Extra Sharp Aged Cheddar Cheese was handed out for over an hour!!!! and then they offered us "wristbands"
So WE could pay them!!! to appreciate such Voluminous Solubles,....
YES TO PAY THEM !!!!!!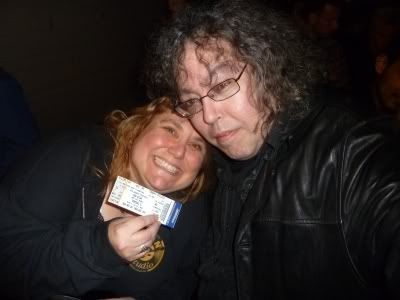 Here We Are (Hi Jamie)
Happy Ticketholders Ready for Bob, UNTIL !!!
But Wait, I Have No Problem Disrespecting The Venue But,....... The Artist????,..........
We Have Camera's and Plan On Taking Pictures. For Our (In OUR case OBSESSIVE) Own collection!!!!.
OK Well He Is Above the average Bruce Dickinson so,.....
Now the venue has to "Check Our Camera's In" which both myself, Jamie and quite probably 88% of that audience had in their pockets, up their sleeves or at least in their galoshes, YES Camera's!!!. This as you can imagine slows things up a great deal and while both parties (Venue Staff VS. Ticket Holders) get along well enough during the process its quite obvious that both teams have opposing ends to their means. It is also Quite Obvious that many people here have snuck their camera's in however the "tactic"seems to have worked as no-one is taking a photo and in New York at a Bob Dylan Show EVERYONE Would Be Taking A Photo.
Jamie has a contingency plan and we do meet "indoors" under separate flags.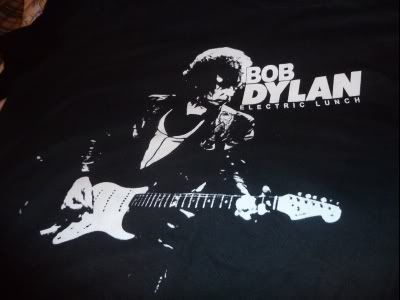 The "official" merchandise is nice but sometimes you happen to run across something much cooler.
Where else are you going to get a Bob Dylan "Electric Lunch" (1983) t-shirt (which is in lots of ways cooler than what's available at the venue) other than from the "bootleggers" just a block away and for Ten to Twenty Dollars less than whats inside the venue. A Much cooler design from my Time Out Of Mind but this shirt "grabbed" me from a moving New York sidewalk to stop and haggle whereas the "official" merch inside got an "ooh" and even an "aah" but no "Grabbed By The Stunning Beast" reaction, Ten Bucks for this Stunning Black & White Monster of a t-shirt and worth every penny (wait till I wash it a few times then ask me).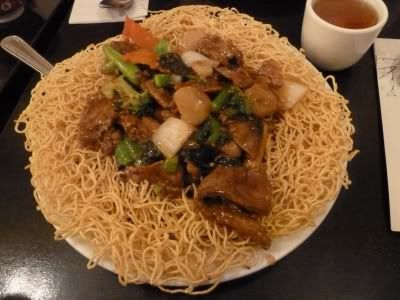 Pan Fried Noodles with Beef
MEE Noodle Shoppe (53rd street & 9th avenue) A Longstanding haunt of mine.
The Setlist.