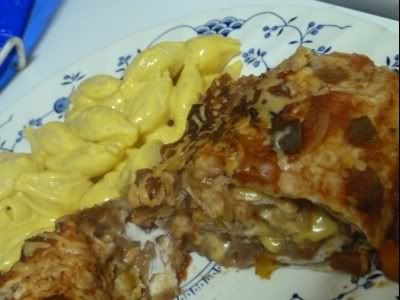 One,Two,Three O' Clock!!!
Four O' Clock ROLL!!!
This started as a thought a week ago while having some Lavash Pizza that Jamie baked and I noticed the greatness of the Bread once again.
The Thin Middle Eastern Bread Lavash complimented the Sauce and Cheese of the Pizza well and being Tex Mex minded I immediately envisioned Refried Beans, Cheese, Ground Beef, Salsa and Sour Cream complimenting this "biblical times" simple bread.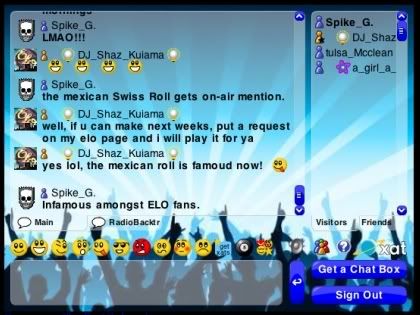 On my way out I tuned into DJ Shaz's "Mud Edition" program on
RADIO BACKTRACK
mentioning the forthcoming Mexican Swiss Roll to my ELO friend and he wished me luck on the air giving best wishes to any and all of my dinner guest's!!!. Fortunately only Jamie and myself were in danger of food poisoning..... or worse.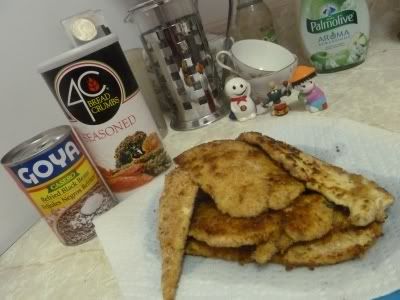 In these progressive and spiritual warlike times a vast majority of humankind "bake" their meats as opposed to Char-Broiling or Frying due to health concerns. I decided to Egg, Bread & Fry (in Corn Oil) some Chicken Cutlets up for the "MEAT" portion of my Mexican Swiss Roll. Could the "Frying" actually hurt ???, Could the "Breading" actually hurt ???, NO!!!!!
Be sure to brush Refried Beans along the entire oval of the Lavash Bread as this will be the Roll's moisture base and "paste" as it were, place less Beans and not much else towards the "Top" of the roll you will be making Because You Will Be Rolling Up, Gravity comes into place here.
Place the Lavash Bread facedown on a non metallic surface and begin layering the ingredients starting here.
Lavash Bread
Refried Bean's
Caper's (drained)
Cheddar Cheese
Salsa (lengthwise 2/3 down the bread) (see photo)
Chicken (or meat/vegetable of choice)
Jalapeno's (drained/sliced thin)
(more Cheddar Cheese)
(The Lavash was a bit much too Porous, Flour Tortilla's will be tried for the sophomore run)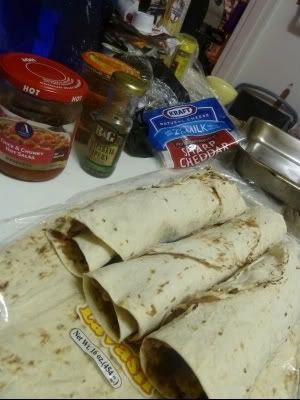 Gingerly Roll into U.F.O. or Cigar Shape.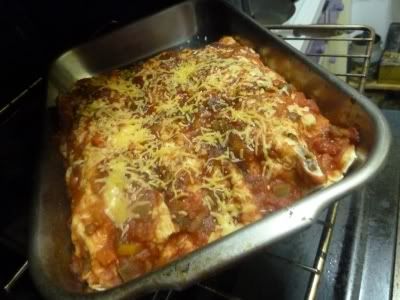 Drape & Douse smartly in Salsa to avoid Tortilla crispiness. Add Cheese and Chili Powder during last 2 minutes of baking.
ROLL OVEN BEETHOVEN !!!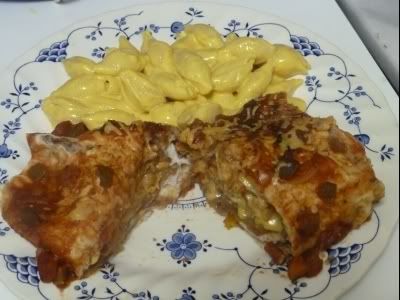 I'm new at this "presentation" thing.
That's a portion of Ronzoni Medium Shells combined with a jar of Ragu Cheese Sauce behind the Roll.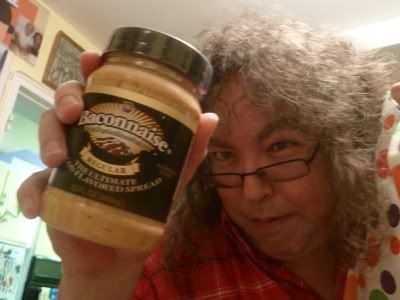 To The Chef Goes The BACONNAISE!!!
(a gift from Jaimiennaise)